Get a comprehensive overview of your financial transactions with the QuickBooks General Ledger Report. This report gathers all your transactions from different accounts within a specific timeframe. It covers assets like cash, receivables, equity, and funds awaiting deposit.
Customize the report to your preference by choosing either cash-based or accrual-based bookkeeping and focusing on specific accounts of interest. Gain valuable insights effortlessly with QuickBooks General Ledger Report Online.
How Does General Ledger Report in QuickBooks Work?

QuickBooks maintains accounting balance through the double-entry method, ensuring accurate and reliable financial data. By following a specific procedure, QuickBooks general ledger reports empower users with its robust features.
To operate effectively, QuickBooks relies on the utilization of debit and credit cards and monetary values.
Credit and debit entries must have equal monetary values.
Every journal entry must include at least one debit and credit.
The number of debits and credits in each account should not be equal.
QuickBooks employs the balance sheet formula to ensure balance. It calculates a firm's assets by combining liabilities and owner's equity.
How do I find the General Ledger Report in QuickBooks Online?

At times you might wish to access reports in QuickBooks Online. However, if you are new to the application, you may find it difficult, but the steps below will make your task easy. To find and run a general ledger report in QuickBooks online, do the following:
Navigate to​ Business Summary or Overview option.
Pick the Overview of the Business.
After that, Pick All.
Go below at the bottom of the screen.
Pick the Option, My Accountant.
Pick General Ledger.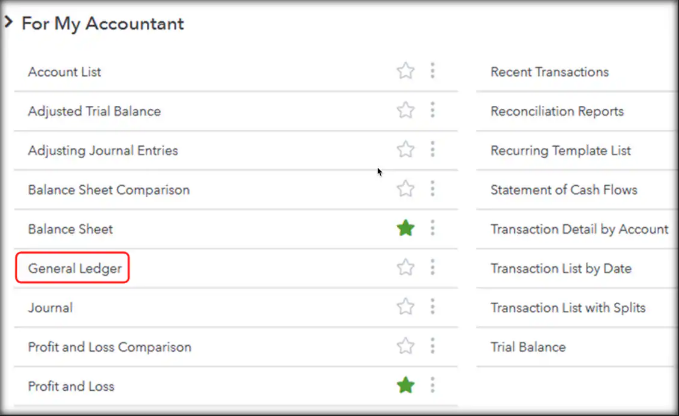 Pick the range of the date or specific timeframe.
Pick Cash or Accrual.
You will see the Run Report option.
Tap on it to generate the report in QuickBooks.
How do I filter General Ledger Report in QuickBooks Desktop to Show Account with Activity?

The steps below will show you how you can filter general ledger reports in QuickBooks Desktop to show only the accounts with activity.  
Access the Reports menu.
Locate Accountants & Taxes.
Choose General Ledger.
Click Customize Report.
Navigate to the Display tab and select the Advanced button.
Check the box next to In Use in the Include section.
Select OK.
Then OK.
How Do I Customize the General Ledger Report in QuickBooks Online?

You can filter and customize general ledger reports in QuickBooks Online. Follow the simple steps given below to achieve this.
Navigate to the Reports tab in your QuickBooks Online (QBO) account.
Enter "Transaction Detail by Account" in the search bar.
Choose Customize.
Modify the report's date range.
Access the Filter section and click on the Accounts field, then select the desired accounts from the dropdown menu.
Tap on the run report option.
How To Print a General Ledger Report in QuickBooks Desktop

Let us guide to on how you can print general ledger reports in QuickBooks desktop with accounts that are active only. You can customize it to display the information or rows that contain the specific account.
Navigate to Reports, then List, and select Account List.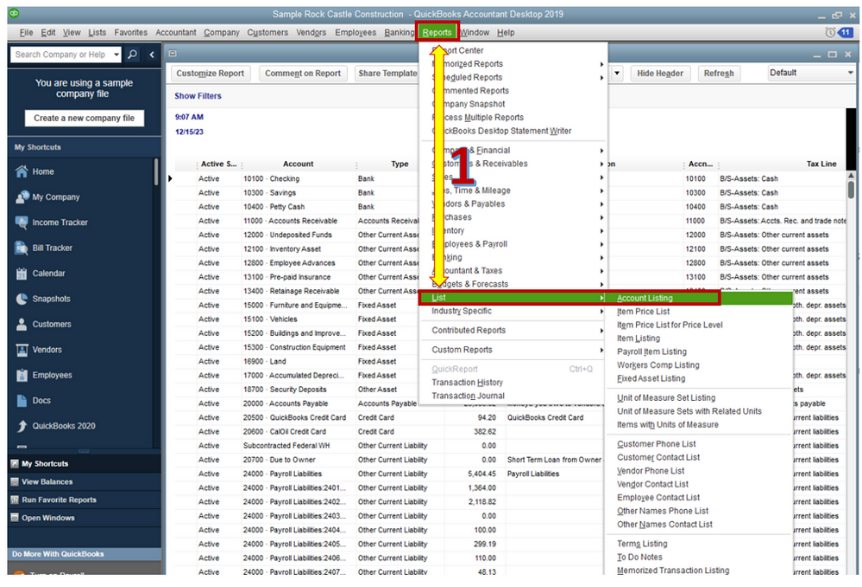 Tap Customize Report, and search for Active Status in Display and Columns.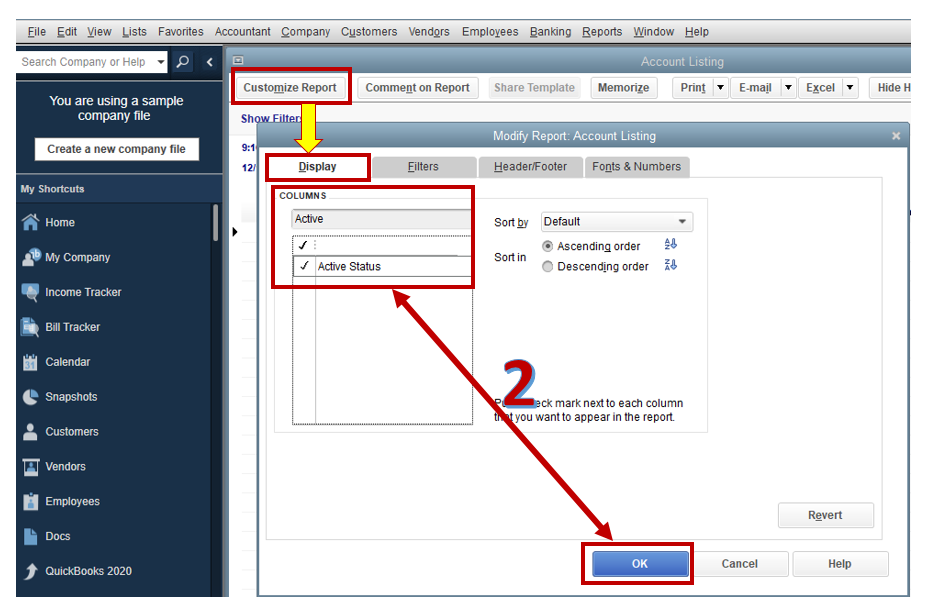 Tap OK.
In Filters, search for Active Status and confirm with OK.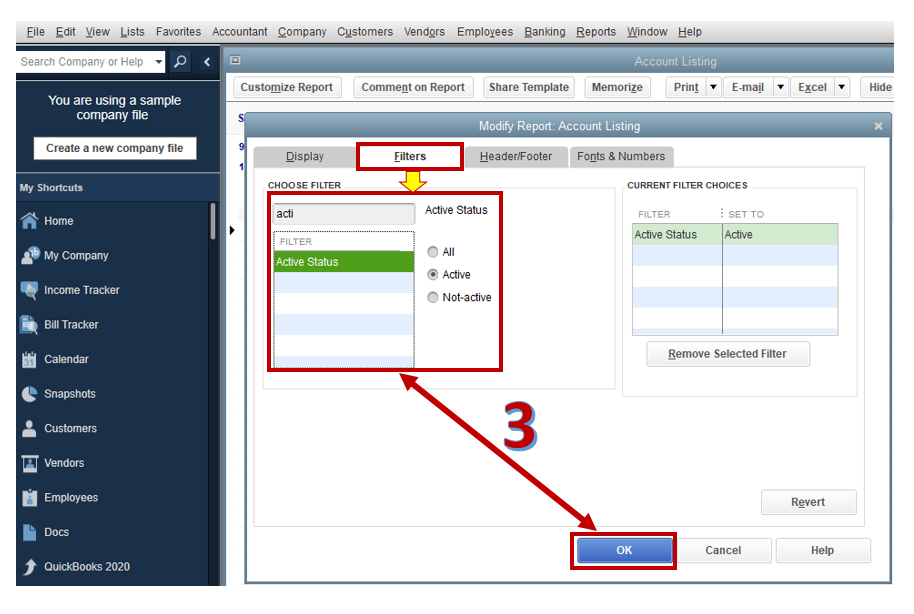 On the top section, click the drop-down arrow for Print and choose Report.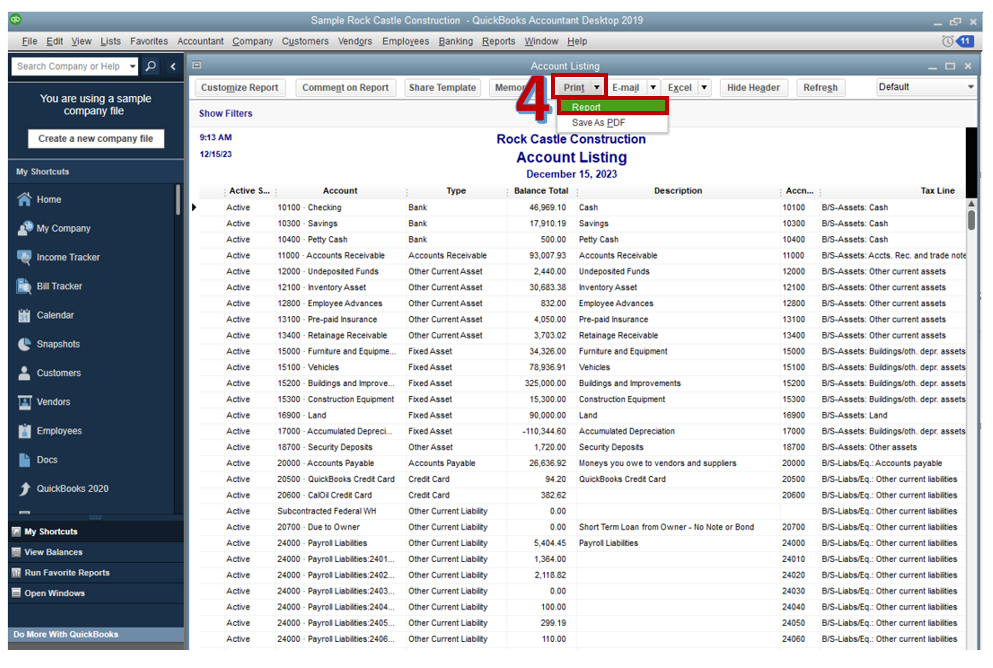 Once all is set, click Print to generate the report.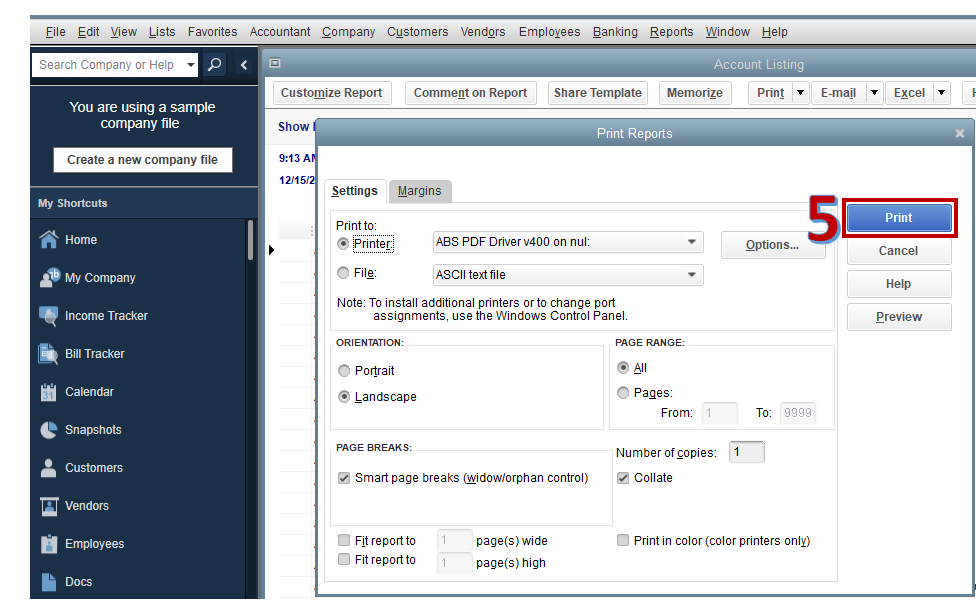 General Ledger Report in QuickBooks Only Prints 670 Pages. How do I Change the Settings?

Currently, there is no such setting that will allow you to print general ledger detail reports in QuickBooks desktop past 670 pages. However, the only thing you can perform is to import the data into Excel. Doing so will allow you to change the printing settings.
Access your General Ledger report.
Apply a filter to set the date period for one year.
Export the report by clicking the Excel button.
Customize the layout and details in the spreadsheet, if necessary, then proceed to print.
Third-party applications are also available to help you print yearly general reports. You can look for it in the QuickBooks Desktop App Center. 
In this informative blog, we have explained the General Ledger report in QuickBooks report, providing easy-to-follow instructions on locating and customizing the report. Additionally, we discussed methods for printing and accessing customized reports, offering valuable tips to enhance your reporting capabilities in accounting software.
Frequently Asked Questions
What is a general ledger QuickBooks report?
A General Ledger QuickBooks Report gives you an outline of all the financial activity of your Business or Enterprise for a particular timeframe.
How do I add accounts to a general ledger report?
You can add via the distribution account and account filters in the customize tab of the QuickBooks General Ledger report.
How do I print a general ledger in QuickBooks?
Navigate to the Print statement or reports, transaction reports, and select General Ledger.
Can I filter accounts in a general ledger?
Yes, you can filter and sort accounts in a General Ledger using the customize feature.
What is a general ledger report in QuickBooks Online?
A General Ledger report in QuickBooks Online displays financial data for the account for a particular date given.
How to run QuickBooks general ledger report for one account
You can select the account that you would run the report for in the general ledger report QuickBooks.
General ledger report not running?
QuickBooks Online saves data in the cache and when it is full, errors might occur.
Why are there changes in my QuickBooks general ledger report?
Changes in the general ledger report can occur due to the accounting method used or the time frame selected.