Reset QuickBooks passwords is the ultimate way for password recovery. A user can forget the password as it is a common phenomenon. However, there are multiple ways in which you can QuickBooks Password Crack or log back into your account.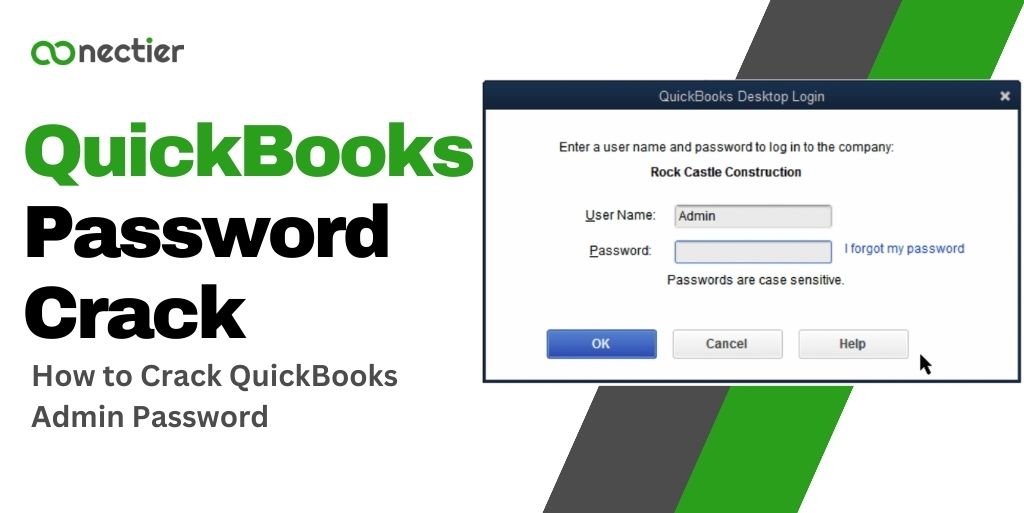 In this blog post, we will explore the methods to recover your account due to a forgotten password.
What Are the Reasons to Reset QuickBooks Password?
Forgot QuickBooks password could be due to several reasons. Some common causes are given below:
Forgot the username and password
Technical issues
QuickBooks haven't been used in a long time
One or more users accessing the same account
Secret questions
No matter the reason, we will provide you with easy-to-use troubleshooting methods to reset your QuickBooks Password
How to Reset or Crack QuickBooks Admin Password?
To crack QuickBooks admin password, you have two options you can follow:
Method 1: Reset a user password in QuickBooks Desktop
Launch QuickBooks
Log in as administrator
Navigate to Company
Then, Set Up Users and Passwords.
Pick Set Up, Users
Write the administrator password again.
Pick the user from the list
Tap Edit User.
Write the new password,
Tap Next twice and tap Finish.
Method 2: Automated QuickBooks Password Recovery Tool
The Automated Password Reset tool can assist you in resetting passwords in QuickBooks Desktop.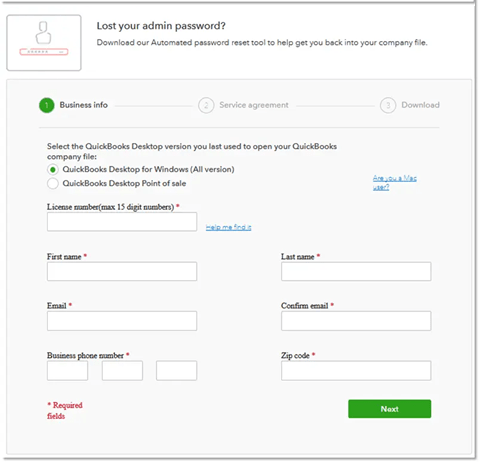 Download the Automated Password Reset Tool for QuickBooks Desktop.
Complete in your license number of QuickBooks and business info, then Tap Next.
If the details don't match, check your Intuit account and make sure the info is correct.
Accept the license agreement and auto-download the tool. You can also download it manually.
Run the tool and write the token identification or number received via email.
Pick the same QuickBooks version and pick the company file to refresh the password for.
Write the right Company File Administrator user id or name
Enter a new password and confirm it.
Pick restore Password to finish the process.
Note: QuickBooks may ask you to change your credentials again, so just create a temporary password.
To use the automated password reset tool, users much ensure they have the QuickBooks version which is below 2020.
How to Reset QuickBooks Password in Desktop 2020 Version?
To reset QuickBooks Password in Desktop version 2020 and above, you need to follow the steps below:
Launch QuickBooks and start the company file.
Click on "I forgot my password" on the login window or screen.
Select an email then Pick Next.
Write the token received in the email.
Note: Ensure to check your email spam folder for any password reset instructions from QuickBooks.
How to Fix I Forgot My QuickBooks Password in 2019 and Earlier Versions?
In case you are finding solutions to your question forgot my QuickBooks password in the earlier version, you can do the steps below:
Open QuickBooks.
Pick I forgot my password.
Complete the info on the form.
Write all info such as license number, name, email, phone, and ZIP.
Tap OK.
Open your email for a code. Ensure to check your spam folder as well.
You will be guided to create a new password for the admin account.
Can I Get Help with Reset QuickBooks Password?
To reach technical help for reset QuickBooks password. Simply follow the steps below:
Go to the contact page link
Pick the QuickBooks Desktop and its version.
Pick Search for something else.
Write your password reset concern and tap Search.
Scroll down and tap to Start a message.
There are several methods you can use to reset QuickBooks password, including the Automated Password Reset Tool, Challenge Questions, or the QuickBooks Password Reset Form. These options provide a quick and efficient way to regain access to your account.
Frequently Asked Questions
How do I reset the admin password in QuickBooks?
Open QuickBooks, sign in as admin, go to Company, select Set Up Users and Passwords, enter the admin password, and select user in User List to change password.
How do I find my QuickBooks admin password?
Open QuickBooks Desktop, select Company and click Set Up Users and Passwords. If an Admin user appears in the User List, you have the credentials.
What should I do if I forgot my QuickBooks Online accountant sign-in information?
If you cannot remember your QuickBooks Online Accountant sign-in information, you can reset your credentials and get your user identification quickly.
How to reset passwords in the QB tool hub?
Open QB tool hub > Open company file > Click on 'Forgot Password' > Provide a phone number, zip code, license number, and email address used to create an account.
What makes a good QuickBooks password?
A complex password with at least 7 or 8 characters, including letters, special characters, and numbers, with at least one uppercase letter and one number.
How to crack QuickBooks password?
Download QB Automated Password Reset Tool and choose the QB version to open the company file.
How to recover Intuit Quicken password?
Use a password recovery tool to recover the Intuit Quicken password.
How to reset QuickBooks password in Intuit?
Download and run the QuickBooks Password Reset Tool from Intuit's website, select the locked company file, and sign in to the linked email account.
How do I recover a password from a QBB file?
To recover a password from a QBB file, click "Recover" on the QuickBooks page and select accounts to recover passwords for.
How do I Find my QuickBooks password If I Forgot It?
QuickBooks asks for a password to protect your sensitive financial data and prevent unauthorized access to your account.