You can use a server PC or host computer to run QuickBooks. In either case, the QuickBooks error 80070057 can come up. The company files of this software can be accessed using any of the above-mentioned systems. While a file is run on a network, communication problems may take place. This is when the error 80070057 is most likely to emerge. Hence, it is a network or communication bug. On that network, or through these systems, you may not be able to seek those permissions that are relevant to a file. Therefore, communication may not properly happen between your network, computer, and company file.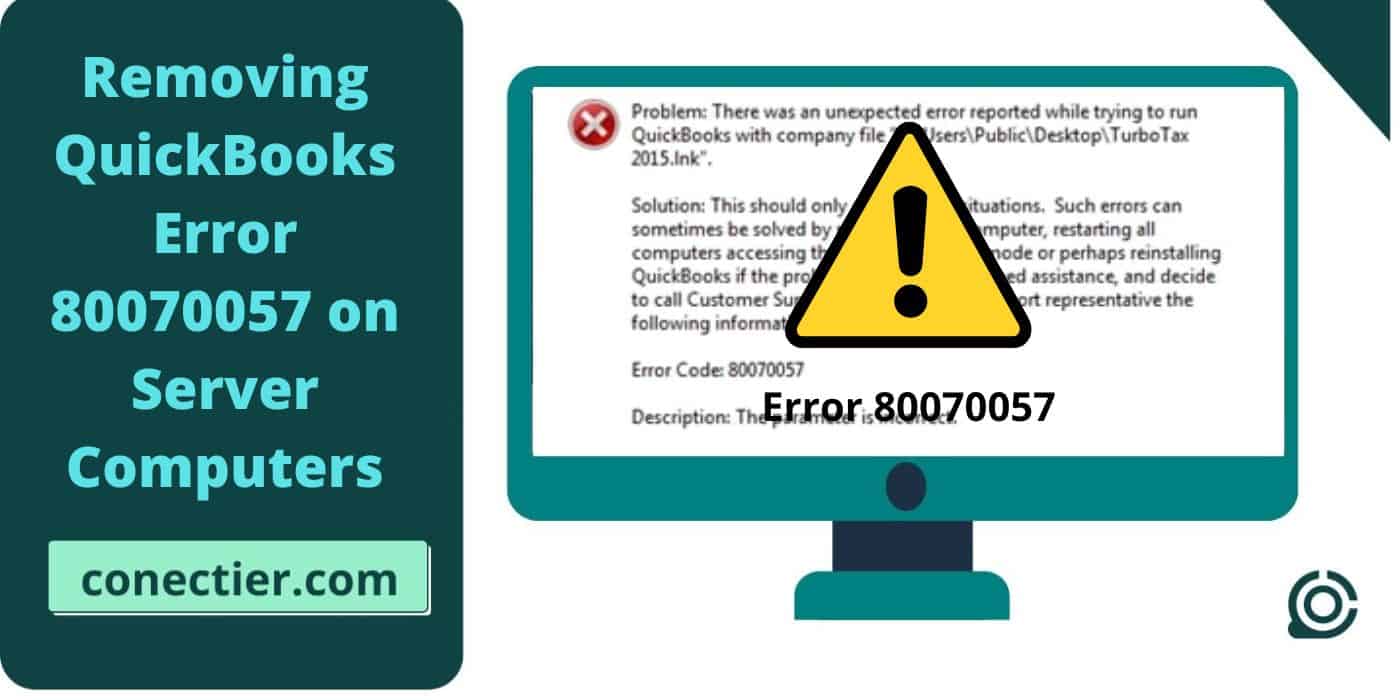 Kindly note that this error may create hindrances such as difficulties opening company files. Beyond these, the "QuickBooks error 80070057 parameter is incorrect" message may also be generated.
Main Reasons behind the QuickBooks Error Code 80070057
You may now understand that a lack of certain permissions can make way for the 80070057 error code. This may, however, not be the sole cause of the communication error. Several other reasons can be seen behind its occurrence. Given that you want to resolve this error, then it will be useful to form a thorough understanding of these reasons too.
The error 80070057 in QuickBooks can be found when Bit Defender is used. This antivirus program can limit communication or certain processes amongst systems.
Programs like Firewall or the settings for internet security may not have been correctly configured and, hence, causes the message "QuickBooks Error 80070057 the Parameter is Incorrect".
A user can run into this problem when a network Data or .ND file is damaged.
This accounting software may not read a file since its extension may have been modified.
You may be accessing a company file placed in a secured shared folder. It may not enable every user to have the necessary permissions.
How to Fix Error Code 80070057 in QuickBooks?
Try attempting a fix for the QuickBooks error 80070057 by modifying the name of a relevant .ND file. In case further help is needed, replacing the existing extension of your QuickBooks company file with the correct one is a useful suggestion. A user who is finding this error code because of BitDefender must reconfigure this program. Otherwise, several other measures can be tried to troubleshoot the error 80070057.
To learn about these or more fixes, the information provided below will help.
Fix 1: Properly Configure Bitdefender
The security software, BitDefender, requires certain configurations to work correctly. When these configurations are faulty, this software or program may not let your computer connect with others for data-related purposes. This is when the error 80070057 in QuickBooks can come to the surface. As you may assume, correctly configuring BitDefender may work when this error has to be stopped.
Look for "BitDefender 10.0" on your Windows computer.
After finding it, open the menu of this security software.
Now, you have to opt for "Antivirus".
In Step 4, the user must pick the option "Custom Level".
This will reveal another option. It will be titled "Exclude Path from Scan". Press the same.
Go for the button "New Item".
Followed by this, you have to use the feature "Mapped Drive". Otherwise, you can click on "UNC Path".
With the option given above, you can try to locate your QuickBooks company files. As you launch them, you can check whether or not the communication error 80070057 is emerging.
Fix 2: Use QuickBooks File Doctor
You may have often utilized the QuickBooks File Doctor tool for settling various error codes. It can form an effective measure when you have to fix the 80070057 error. It will go over your problematic company file that is often displaying this issue. The cause of the problem will be detected as well as resolved. Hence, the error code will eventually not be seen.
How to fix error code 80070057 in this software using this tool can be perceived when you properly run it. You will require the QuickBooks Tool Hub in doing so. Then you can begin to use the QuickBooks File Doctor Tool.
Tip: The error 80070057 can persist on multiple versions of this Intuit software. This tool will assist you in the case of various versions.
Fix 3: Rename or Remove Your .ND File
An effortless measure to fix the QuickBooks error 80070057 is through a Network Data file. The .ND file linked to the company file that is causing this error code has to be chosen. Then you have to either change the name of it or remove the said file. Depending on which action works for you, you will be able to get rid of this communication error.
Find the following folder on your Windows PC:
Locate a "Network Data" file in this folder.
Create a copy of the file given above.
Log out every user from "QuickBooks".
Then you have to exit the software.
Ensure that this software is not running on any computer currently being operated by you.
Then sign into your PC as its administrator.
Come to the folder of your company files on this PC.
Pick one file which mentions ".ND" as its extension. Also, see to it that this is the same company file that has been reflecting the error code 80070057.
Try to change the name of this file and save the modification.
Now, run your QuickBooks company file to find out whether the error code is present.
If not, then you can stop performing the next set of steps. Otherwise, you can continue reading below:
Should renaming this file not help, then select it. Press "Delete".
Fix 4: Scanning Files through QBDBSM
QBDBSM refers to QuickBooks Database Server Manager. It comes into use when you operate files over a server through a network. This manager will enable you to scan your company file. In doing so, you will be able to look for issues in it that are responsible for the QuickBooks error 80070057.
See here how you have to use QBDBSM to troubleshoot this network error code:
On your host or server computer, "QuickBooks Database Server Manager" has to be started. For this, you have to tap on "Taskbar".
Then write the name of the manager here.
Push the icon given for "Open".
This manager may comprise the names of your files. Should you find them, then tap on "Scan".
After this, the next step is to use "Add Folder".
Assuming that your file names are not found, then come to the location of your folder.
You have to pick the relevant folder as well as push "Ok".
In this step, press the option of "Scan".
The permissions associated with your files will be configured properly. Wait for the same.
Next to this, you have to launch the accounting software on your host and server systems.
The 80070057 error code may no longer come up.
Note: This fix can best work for those users who are running into the QuickBooks error code 80070057 due to permissions being blocked by Firewall. Otherwise, when the "Internet Security Settings" are not correct, this measure will assist you in that case as well.
Fix 5: Use the Correct QuickBooks File Extension
It may sometimes be unusual that your file's extension contributes to error codes. But this cause cannot be overlooked. In an instance in which a user observes the QuickBooks error 80070057, this cause should be speculated. When it has been confirmed, the file extension should be corrected. This can be simply done via the file's Properties feature.
On your system, you have to access your file which is resulting in the error 80070057.
Right-clicking on the same file is required.
"Properties" will be revealed. Press on this feature.
Here, the tab called "QuickBooks" will become visible. It has to be opted for.
Look for "Filename Field". Here, provide the correct extension of your QuickBooks company file.
Along with this, you may be needed to add the version of this software.
Once you are through with both requirements, hit the tab for "Ok".
Fix 6: Using the Software as an Admin
Sometimes, the error 80070057 can hint at the unavailability of certain permissions. Since these permissions may be essential to use QuickBooks company files, not having them can create this error code. This may further result in the message "QuickBooks Error 80070057 Parameter is Incorrect."
Presuming that these permissions are not granted, check whether your system is logged in from the admin's account. Along with this, you can determine that the accounting software is running via admin rights as well.
While you sign in to your PC as its administrator, here are the additional directions to follow:
Find the icon of "QuickBooks".
Then you can right-tap this icon.
On seeing the option of "Run as Administrator", you need to use it.
The software should now begin with the necessary rights. You can open your files. The permissions which were earlier not available should now be granted. So, neither the error nor the problematic message would bother you.
Resolving the Error Code 80070057 in QuickBooks 2012, 2013, 2015, 2017, 2018, & 2019
In numerous year versions of this software, seeing the code 80070057 can indicate that the location of your files is either not set to default or is problematic. Nevertheless, it will always be wise to let the company files remain in the default location. This will help in fixing and preventing the QuickBooks 2013 error code 80070057 or similar issues in the versions 2015, 2017, 2018, etc.
Find out where you have stored the company files of the software on your system.
Then pick only 1 file.
Right-clicking and selecting "Copy" is needed.
Opt for running "My Computer".
Come to the folder "Users".
Then you have to move to the folder "Public".
Here, you will see "Public Documents". Select the same.
On seeing "Intuit", you have to press its folder.
After doing so, click the folder for "QuickBooks".
Then choose "Company Files".
In this folder, you have to paste the copied company file.
One by one, you can paste all the files into this folder after copying them in the said manner. In this way, these files will be added to their location by default. This location should probably remove communication or network problems. So, your files will start working without the QuickBooks 2012 error code 80070057 being encountered. Otherwise, in the year versions 2013, 2015, 2017, 2018, and 2019 as well, this error should get fixed.
Can I Troubleshoot the Error Code 80070057 in QuickBooks Desktop?
The error code 80070057 in QuickBooks Desktop can also be an update-related problem. Therefore, you should check whether the software has the latest updates. Or, you should get them right away. In another way, you can fix this code by modifying the location of your QuickBooks company file. Using devices like flash drives, you can securely create its copy, and paste it elsewhere. The new location will prevent the error code 80070057.
Fix 1: Use Flash Drive to Change File's Location
Based on observations, the causes of the error code 80070057 in QuickBooks Desktop are more than just a few. Having said that, the location of a company file can be one of its causes. Professionals who are bothered by this network error due to a similar cause can prefer to change the location of their files. Using a flash drive, this change can be smoothly initiated.
For the removal of the QuickBooks Desktop error 80070057 using this drive, here is what you must do:
Go to "Windows Explorer".
Then "QuickBooks Desktop" has to be opened.
In the program, "File" will be seen. This menu has to be opted for.
After you right-tap it, you have to go for the option "New Folder".
You will notice the file "Companyfile.QBW". It has to be copied.
Then insert your "Flash Drive" into your system.
Run this drive and right-tap in an empty space.
Now, use the "Paste" option.
The copied file will be pasted into your drive.
To further perform this fix, you can open the accounting software. At the same time, you can create one folder. Here, you can paste your file after copying it from your flash drive. As you begin using it, the error 80070057 QuickBooks Desktop should stop appearing.
Fix 2: Updating Your Software
Network issues when running company files can be resolved in ways other than improving the server. One such way is to update the software. Then you can run the files through an updated version of QuickBooks Desktop. This is likely to remove the network problems and, consequently, the error 80070057 should get solved.
Via the Help menu of the software, you can learn about how to update QuickBooks Desktop. See to it that the process correctly starts and ends. This will make certain that the error 80070057 gets fixed.
All in All
For QuickBooks to work, it is vital that the software faces no communication or network problems. For as long as this is ensured, the QuickBooks error 80070057 may not occur. Despite this prevention, when the error is found, the fixes given above should be immediately applied. Hence, quick removal will be seen.
FAQs- Removing QuickBooks Error 80070057 on Server and Host Computers
What does error code 80070057 mean in QuickBooks?
The QuickBooks error 80070057 means the occurrence of several problems. It can signify that your company files don't have all the necessary permissions essential for their launch. Communication/network issues can also be indicated by this error. Additionally, it may hint that a certain parameter is incorrect by generating an error message.
How to fix error code 80070057 in QuickBooks Desktop?
It is best to update this software when codes like the error 80070057 come up. When QuickBooks Desktop has been updated, the software may be able to connect better to the server. Hence, the error may get repaired as well as prevented.
Which factors cause the error 80070057 QuickBooks Desktop?
2 factors can mainly cause the error 80070057 in this software. The first factor includes the location of your company file. Secondly, outdated software can contribute to it. While these can be the main factors responsible for the error code 80070057 in QuickBooks Desktop, additional ones such as a lack of admin rights may also cause it.
How to fix QuickBooks error 80070057 on Windows?
On a Windows computer, there are several ways to troubleshoot the error 80070057. Firstly, you should rename the .ND file associated with that company file which has been affected by this error. Secondly, you can log in to the PC as its administrator. Using another way, you can configure BitDefender on Windows to fix the error 80070057 in QuickBooks.
What is the QuickBooks Enterprise 80070057 the parameter is incorrect?
The "QuickBooks Enterprise 80070057 the parameter is incorrect" is an error message. It is accompanied by the 80070057 error code. It may be seen as a pop-up. Until you troubleshoot the problem, this message is less likely to go away.
Why do I see the QuickBooks company file error code 80070057?
You may see this error code as you launch your company file. Antivirus programs or the Firewall may block the communication process between this file and the system's network. Consequently, the QuickBooks error code 80070057 may start appearing. The other causes may include a lack of permissions needed by this file.
Can QuickBooks Pro error code 80070057 be fixed?
In most versions of QuickBooks, you can try running a system with admin rights. These rights will grant the permissions that are vital for using the company files. Given that you are experiencing the 80070057 error code 2008 QuickBooks Pro, or in any other version, you can try availing yourself of the same permissions.
Which tools can fix QuickBooks error code 80070057?
The QuickBooks File Doctor tool is among the best options available. Using this, the error code 80070057 will be effortlessly removed. You may also opt for QuickBooks Database Server Manager which will work similarly to a tool. In either case, most steps will be automated.
How to repair QuickBooks error code 80070057 via Server Manager?
QBDBSM, also known as QuickBooks Database Server Manager, will scan your folder in which the name of your company file is found. In this process, network-related issues on the server should be eliminated. You can find the folder using the "Open" option in this manager. After it completely scans the folder, the 80070057 QuickBooks error should not persist.
What are the signs of the error 80070057 in QuickBooks?
Your company files of QuickBooks can fail to open when you experience the error 80070057. Aside from this, you may notice a message or pop-up indicating that a parameter is incorrect. Along with that, your system may freeze or the software may crash.