Brightpearl QuickBooks Integration is a powerful tool for small businesses to streamline their financial operations. By linking Brightpearl and Quickbooks, the user can easily send sales orders and invoices from Brightpearl into Quickbooks, simplifying bookkeeping tasks. The integration also allows users to sync customer data between the two systems which helps keep accurate record-keeping of customer information.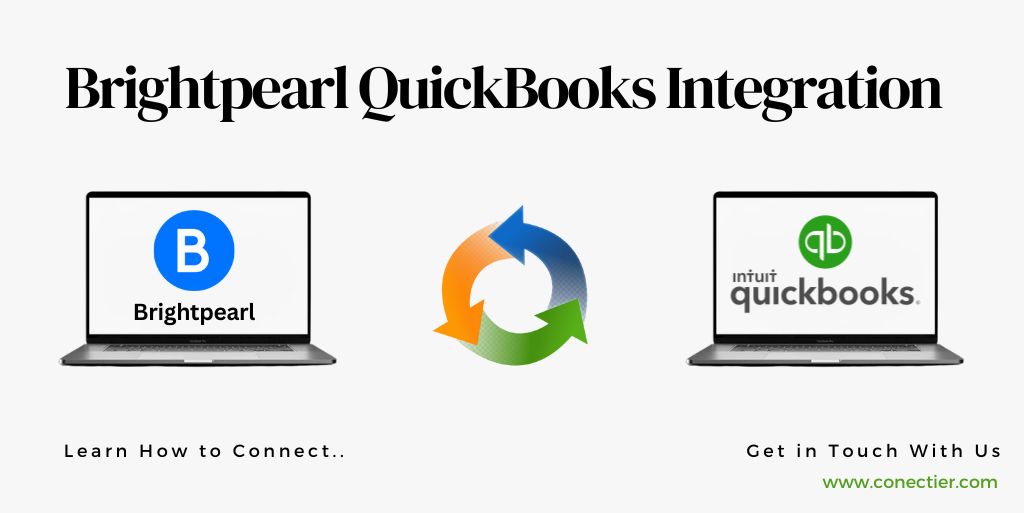 What is Brightpearl?
Brightpearl is a cloud-based omnichannel retail management platform that enables small and medium businesses to manage their entire operations from one single system.
Integrated suite of tools: accounting, inventory management, order processing, customer service, and analytics.
Streamlines process across multiple sales channels without extra software or hardware investments.
An intuitive user interface for easy adoption by retailers with minimal tech experience.
Automates tasks: tracks stock levels across channels, and integrates online and physical store orders.
Provides real-time insights on performance metrics and customer data reporting.
Helps retailers increase productivity and efficiency throughout their business operations.
Does Brightpearl Integrate with QuickBooks?
Yes, Brightpearl does integrate with QuickBooks. This integration makes it easier to keep track of all your financial data in one place. It allows you to sync sales, purchases, and other transactions between both systems so that you can access accurate invoices, purchase orders, and reports from within BrightPearl's platform.
The integration also helps streamline accounting processes like accounts receivable and accounts payable by allowing users to automate the flow of information between both systems. Additionally, users can use BrightPearl's powerful reporting features to gain insights into their financial performance without having to leave QuickBooks or switch applications.
How Brightpearl QuickBooks Integration Works?
Brightpearl integration with QuickBooks is designed to simplify and automate your accounting processes. It uses APIs (Application Programming Interfaces) to establish a seamless flow of data between the two platforms. Here's how the integration works:
Contacts, products, sales invoices, purchase invoices, and inventory adjustments are recorded in Brightpearl.
The integration platform syncs this data with QuickBooks Desktop, ensuring accurate and up-to-date financial records.
Any changes made in QuickBooks Desktop, such as sales payments or refunds, are also synced back to Brightpearl.
This two-way synchronization ensures that your financial data is consistent across both platforms, eliminating the need for manual data entry.
What are the benefits of Brightpearl QuickBooks Integration?
With the integration, you can reduce manual bookkeeping tasks and spend more time focusing on growing your business.
Gain better control over day-to-day retail tasks, such as creating sales invoices, managing inventory, and tracking liabilities.
Data flows seamlessly between Brightpearl and QuickBooks, ensuring accurate financial records and eliminating the need for double data entry.
Keep track of your financials in real-time, with up-to-date insights into sales, expenses, and inventory levels.
Sync sales payments and refunds between Brightpearl and QuickBooks, ensuring accurate and timely recording of transactions.
How to Integrate Brightpearl and QuickBooks Online?
Integrating Brightpearl with QuickBooks Online can streamline your business processes and enhance efficiency. Here are the steps to seamlessly connect these two powerful platforms.
Sign up for Brightpearl: Get comprehensive inventory, order, and accounting management.
Connect QuickBooks Online: Authenticate and integrate with Brightpearl.
Map data fields: Ensure accurate synchronization of sales, invoices, products, and customers.
Configure settings: Customize data sync frequency and triggers.
Test thoroughly: Identify and fix any issues.
Go live: Activate the seamless integration.
What are the Steps for Brightpearl QuickBooks Desktop Integrations?
To connect Brightpearl with QuickBooks Desktop, please follow these steps:
Launch QuickBooks Desktop and log in to your subscription.
Go to the top menu and select "Edit" then "Preferences".
On the left hand you will see "Integrated Applications", click it.
Tap on the "Company Preferences" tab.
Tap on "Add" from the available options.
Select "Brightpearl" from the list of applications and click on "OK".
Enter the required information to authorize the connection between these two applications.
Follow the prompts and ensure that all information is entered correctly.
Once the integration is complete, you can start managing your inventory, order management, accounting, or reporting seamlessly
What are the Features of Brightpearl's QuickBooks integration?
With Brightpearl and QuickBooks integrated, you can seamlessly sync various aspects of your business finances. Here are the key features:
1. Getting in touch
Clients and suppliers added in Brightpearl or alterations to existing data are reflected in QuickBooks Desktop.
2. The products
Brightpearl automatically updates QuickBooks Desktop when new products are added or existing products are changed.
3. Invoices & Credits for Purchases
Brightpearl syncs purchase invoices and credits to QuickBooks Desktop for accurate accounts payable management.
4. Refunds & Purchase Payments
Brightpearl automatically creates payments and refunds related to purchase orders when they are recorded in QuickBooks Desktop.
5. Invoices and credits for sales
Invoices and credits created in Brightpearl can be channeled directly to QuickBooks Desktop, streamlining your sales process.
6. Refunds & Sales Payments
Syncing between Brightpearl and QuickBooks Desktop ensures accurate recording of sales payments and refunds.
7. Inventories
Brightpearl updates QuickBooks Desktop with real-time stock availability information based on inventory adjustments recorded in Brightpearl.
Brightpearl QuickBooks integration offers businesses a seamless solution for effective inventory management, order fulfillment, accurate accounting, and extensive reporting. With the assistance of experts, businesses can customize the integration to meet their specific requirements and rely on ongoing support for any issues.
Frequently Asked Questions
Can Brightpearl and QuickBooks be integrated?
Yes, they can be integrated.
What are the benefits of integrating Brightpearl and QuickBooks?
The benefits include efficient inventory management, order handling, accurate accounting, and comprehensive reporting.
How to ensure proper integration between Brightpearl and QuickBooks Desktop?
An expert can help by setting up the connection, mapping the data fields, and providing ongoing support.
What types of data can be transferred from Brightpearl to QuickBooks Desktop?
Data such as sales orders, purchase orders, invoices, payments, inventory levels, and customer information can be transferred.
Can the integration between Brightpearl and QuickBooks Desktop be customized?
Yes, it can be customized based on specific business needs to match requirements.
What are the advantages of managing inventory using Brightpearl and QuickBooks?
Advantages include real-time visibility into inventory levels, streamlined order fulfillment, and accurate stock management leading to improved customer service.
Does the Brightpearl QuickBooks integration support multi-channel sales?
Yes, it does support multi-channel sales.
Can reports be generated by integrating Brightpearl with QuickBooks Desktop?
Yes, it enables one to generate a wide range of reports.