Shopify is among the recognized online stores that let people set up their e-commerce businesses. As businesses witness tremendous growth, keeping up with organized information may become challenging. Information relating to finance and accounting ought to be maintained for purposes such as taxation, the estimate of profits/losses, etc.
As opposed to using accounting software like QuickBooks individually, combining it with your account on the online store can be a beneficial idea. Resulting in Shopify QuickBooks integration, you can see more features to make your information auto-organized in most instances. Synchronized account information can add to the convenience of business owners as well as startup founders at both big and small scales.
Features Post-Integrating QuickBooks with Shopify
You can automatically synchronize your data with QuickBooks and Shopify to make your business organized. This is a key feature of integration for those users who have multiple business processes to manage but limited hands for help.
You can expect more features post their integration as mentioned here:
A summary of all your orders can be seen that can include the details of product information and profits earned.
Entering fees with respect to your business can become easier.
Shopify QuickBooks integration enables you to know the pending taxes. On the platform, you can import your data that can comprise these taxes.
The orders/refunds received from the shopping platform can be auto-entered in QBO. Both present and past information can be added.
Payouts of Shopify can be exported from the accounting software. This can be an automated process. A summary of the exports can further be obtained.
How to integrate QuickBooks with Shopify?
Various applications can be put to use for syncing your QBO and Shopify accounts. Shopify Connector can be regarded as the best app to integrate Shopify and QuickBooks, especially for business owners with a restricted budget. Integration between your accounts can also be facilitated via other applications such as QuickBooks Sync by Bold and QuickBooks Bridge. They can synchronize in a limited time and give you access to certain features that can be utilized for accomplishing business tasks.
Option 1: Using Shopify Connector
For better accounting and e-commerce business processes, Shopify Connector has been launched. This is an application by Intuit that links your Shopify store account with that of QuickBooks Online.
To use this software integration application, access the search feature of QBO. Enter the name of the application. Tap on Get App Now. After the application has been accessed, enter the required information in it. Then wait for it to integrate Shopify-QuickBooks Online.
Let us begin by running the accounting software.
Then find the "Search" feature.
Write the following in this feature:
Select this integration application and to download it, push "Get App Now".
Provide the app with the details it asks for after the download.
Wait for a process that completes QuickBooks Online integration with Shopify.
| | | |
| --- | --- | --- |
| App Plan | Integration Cost | Users Allowed |
| Shopify Connector by QuickBooks | Free | Not Limited |
Option 2: QuickBooks Sync by Bold for Connecting
QuickBooks Sync by Bold is an application for companies who wish to link Shopify and get the maximum integration benefits possible. With a number of automatic processes, this app enables you to quickly link and start using them.
You can find this application by conducting a search for it in QuickBooks Online. Through the Get App Now button, you can get it downloaded/installed. Choose your plan and decide whether you wish to obtain a trial or directly purchase it. Then you can connect your accounts and finally get started with Shopify and QuickBooks Online integration.
| | | | |
| --- | --- | --- | --- |
| Plan | Integration Price per Month | Users Allowed | Trial |
| Shopify | Nearly $29 | 2 | 14 days at no cost |
Option 3: Syncing via QuickBooks Bridge
QuickBooks Bridge is a bookkeeping application. Apart from satisfying your accounting requirements, integration-related tasks can also be executed through it. Therefore, when you want to find out how to integrate Shopify and QuickBooks Online, you should learn this app's usage.
This application works after its installation through Shopify. It comprises several plans. Each plan may provide you with different functions. Depending on the plan's cost, the number of functions may vary.
How you can download QuickBooks Bridge has been shown here:
Use the link shown as follows:
Tap on the "Add App" option to get "QuickBooks Bridge".
You will be redirected to the "Log in" page for "Shopify".
In "Email", enter your login ID and press "Next".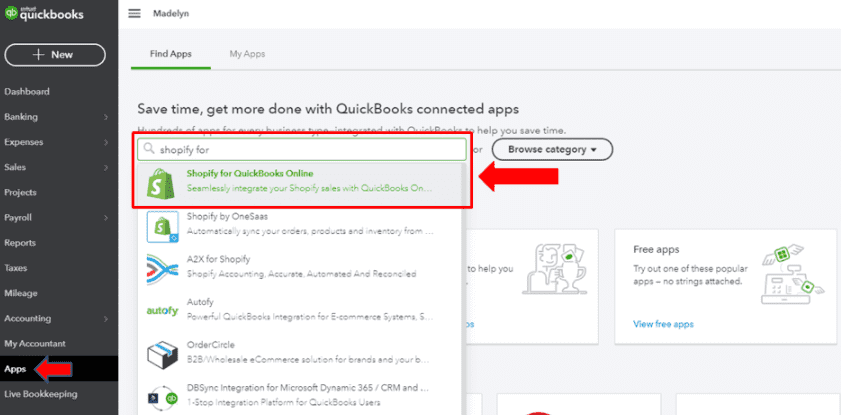 Note: Should you be new to the online shopping site, then please click on "Get Started".
You will be asked to select a plan and complete the other requirements such as the input of your information. Any payment applied has to be paid. Afterward, you can follow the prompts to be aware of how does Shopify integrate with QuickBooks Online.
| | | |
| --- | --- | --- |
| Plan Name | Cost per Month ($) | Trial (Days) at No Cost |
| Silver | 10 | 7 |
| Gold | 20 | 7 |
| Platinum | 30 | 7 |
| Pay as You Go | Free Installation or 0.1 | 7 |
Tip: Earlier, integration only with QBO may have been possible through QuickBooks Bridge. Now, you may use this app for QB and QuickBooks Desktop Shopify integration as well.
When should QuickBooks and Shopify Integration be Done?
A company's inventory may not be available at times. Then receiving orders from shopping platforms may not be possible or convenient. Shopify QuickBooks inventory integration can be helpful in such times for receiving more orders and record maintenance.
There may also be some other conditions wherein you can benefit from the synchronization.
Businesses with lots of data may put in greater hours manually entering their orders, transactions, and other data. This may require them to work for additional hours. Connecting Shopify with the software can make data transfer automatic.
System or computer crashes may often happen. In such instances, your data may be lost or affected. While the device may get repaired, recovering the data can be a challenge. The sync between the shopping and accounting platforms can also work as a backup and, thus, prevent such situations.
Advantages of Shopify QuickBooks Integration
Errors in accounting can lead to several problems. They may affect the record of balances. Any payments relating to taxes may also see errors due to this. Preventing such problems is one of the advantages of QuickBooks Shopify integrations.
Not limited to this, you may also find that:
Automation of processes can benefit big, mid-sized, and small businesses. For those who rely on two platforms to use QuickBooks and Shopify, accessing only one space shall be required once synchronization has been enabled.
Planning numerous processes of your business can be easier. You may not require any tools for carrying out processes like organizing the information, maintaining a summary of imports/exports, etc.
Shopify QuickBooks Integration Review
Witnessing growth for e-Commerce businesses can mean an increase in orders too. With this increase, more information may have to be managed. Likewise, accounting operations may also rise. QuickBooks can be used by business owners for managing these operations. Interestingly, looking at Shopify QuickBooks integration reviews, this move can ensure that these operations are managed but not manually.
As per the reviews of Shopify integration with QuickBooks Desktop, Online, or other versions, automation can be applied to businesses. Depending on the version preferred, you may see a range of combined features of the online shopping store and QuickBooks accounts that can make your work systematic. Though every process may not be made automatic, a major chunk of these may not have to be manually performed. With lower manual efforts, you will have time for improving several aspects of your e-commerce business.
Thoughts in Summation
Integrating or syncing Shopify and Intuit QB may not be mandatory for any business. Nevertheless, it can be beneficial when opted for. While you can access features of both platforms when individually accessed, Shopify QuickBooks integration lets you use these and more from one space. It can work as an impactful approach to growing businesses in the long run.