Excel is an essential program for many businesses. They can require it for storing their employees' information, financial records of their sales, and for other such reasons. To keep a backup of the same, businesses can prefer using QuickBooks. This software lets them easily import Excel into QuickBooks. Aside from a backup, imports can be made for several other reasons too. However, without learning the ways to move this information or records, imports cannot be easily executed. These ways rely on the software version you own. Therefore, depending on the same, you can employ a suitable method to successfully import the data of Excel into QuickBooks Online & Desktop.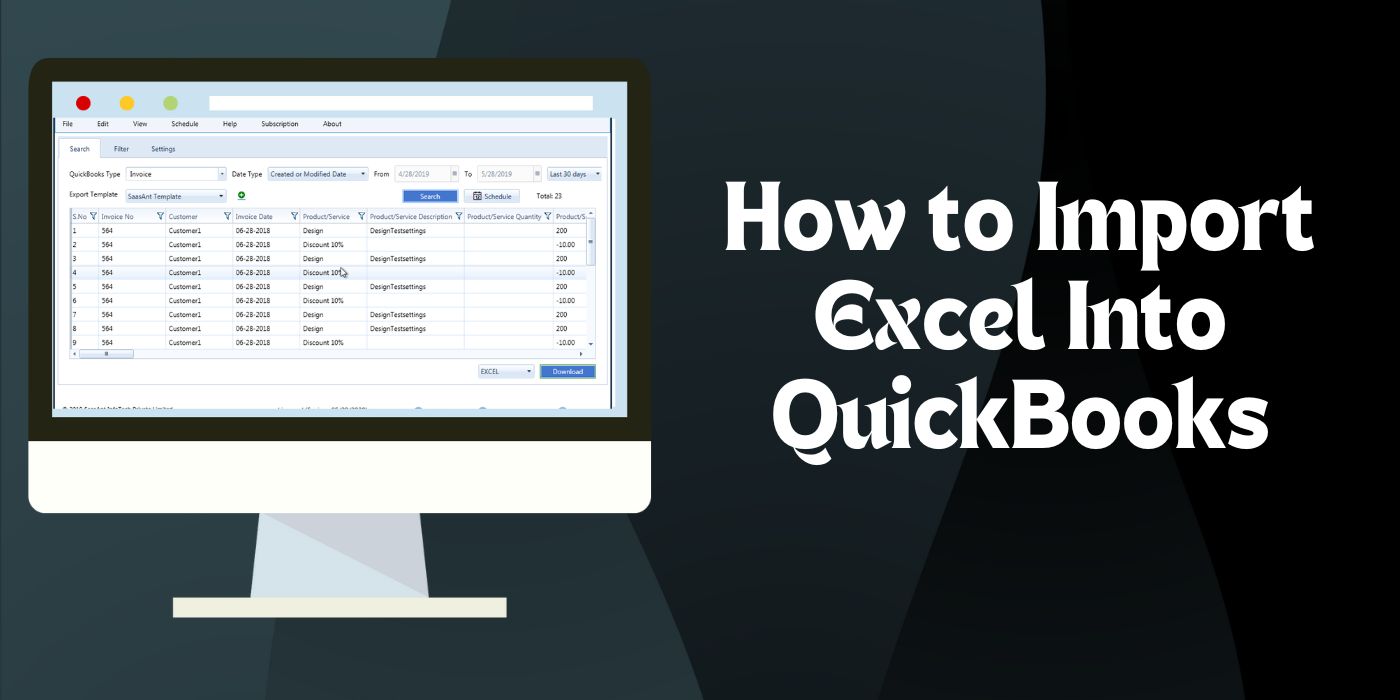 1. How do You Import Excel to QuickBooks?
QuickBooks Excel import can be initiated in a simpler manner through Lists. This is a feature in the software that lets you manage entries. In doing so, it also permits you to add more entries. With this functionality, you can add the entries of Excel to QuickBooks. Keep in mind that those entries will be marked under one list. Therefore, you need to be careful in picking the list that will best go with the information to import.
Use the QuickBooks menu named "Lists".
Find the option of "Add/Edit Multiple List Entries" in it.
Go for the dropdown of "List".
Choose a list that seems suitable.
You can alter certain entries. Do so by pressing the fields available. You can create changes via these and save them later.
By performing step 5, you can also add new entries.
2. Can You Import Excel into QuickBooks Accountant Desktop?
Standard import is an effective way to move the data of Excel into this software. Assuming that certain users are not comfortable in using this method, then they should know that the software supports an additional method too. Using this, you can import Excel to QuickBooks Accountant Desktop. It will require exercising the Chart of Accounts option. You can find it under the Lists menu of the accounting software.
2.1) Method 1: From Utilities
The Utility option of QuickBooks Accountant Desktop comes into use for a number of reasons. One of these is its ability to help users import their information. It turns on standard imports by attaching Excel files. Thus, you can first add the complete information to your file. Afterward, you can access this option to start the method. Please note that this method may take longer than a few minutes, given that the size of the file is too big.
See here to understand how to import Excel into QuickBooks Accountant Desktop:
Run "File" when the software is open.
Press the button for "Utilities".
On finding "Import", hit its button.
Locate and use the option "Excel Files".
You might be struck by the screen "Add/Edit Multiple List Entries". Press "No".
Go through the directions sent across by a wizard.
Then identify the data type and specify it.
"QuickBooks Accountant Desktop" will run an "Excel" sheet.
Completely fill the details in the sheet and save it in a file. Then you can exit it.
Tap on "Add My Data Now".
You can review the information in the software and push "Close".
2.2) Method 2: Using COA or Charts of Accounts
Chart of Accounts is a well-known feature. To access any financial details entered in the software, you can consider opening COA. Not limited to that, you can use this feature to exchange information between QuickBooks Accountant Desktop and Excel. It will come with a direct button called Import from Excel. As soon as you click on it, the main method will begin.
The following directions will indicate to you how to import Excel file in QuickBooks Accountant Desktop using Chart of Accounts:
Check the menu "Lists" in "QuickBooks Accountant Desktop".
Using this, arrive at the "Chart of Accounts".
Then you have to use "Account".
It will bring up "Import from Excel".
You should see "Browse" after this.
Via this button, pick an "Excel" file.
Start mapping the accounts after this.
See to it that the columns in the software and "Excel" match.
Then add a name for mapping.
"Import Type" must be set for the account(s).
After ensuring that the columns and the information within match each other, tap "Save".
Press the button for "Import".
Only when you are importing the file for the 1st time, "Yes" will have to be pressed.
In this version of QuickBooks Desktop, the mapping should be carefully done. The values should be thoroughly matched and the name assigned should be suitable. Otherwise, when you import Excel data into QuickBooks Desktop's version, inaccuracy can affect the values.
3. Can I Import Excel into QuickBooks Enterprise Suite?
For big businesses, QuickBooks Enterprise Suite is suitable accounting software. When Excel files have to be imported to this software, it is understood that they can come with a large amount of data. This data can belong to the numerous customers or workforces of these businesses. To ensure that all of it is correctly moved in one go, knowing how to import an Excel file into QuickBooks Enterprise Suite is vital.
While you read the steps below, see to it that only the single-user mode is used.
Enable the preferences for your inventory. To do so, access your company file via "Admin" rights.
Utilize "Single-user Mode" using "File".
Go to "Edit". Then you have to opt for "Preferences.
Click on the option "Items & Inventory".
Come to the tab called "Company Preferences".
Tap on "Inventory and Purchase Orders are Active", followed by hitting "Ok".
Data file accounts need to be added now. You can press "Lists" to enter "COA" again.
Then right-tap on "COA". "New" has to be chosen here.
To move ahead to import Excel into QuickBooks Enterprise Suite, add these when you see the option of "Account Type":

"Cost of Goods Sold COGS Account"
"Income Account"
"Inventory Asset Account"
For the addition of data, use the information as follows:

"Item Type"
"Item Name"
"Income Account"
"Description of the Item"
"Inventory Asset Account"
"Name of the COGS Account"
"Cost of Item"
"On Hand Quantity"
"As of Date"
"Sales Price"
"Is Passed Thru"
"Total Value"
Begin the process of importing in this step. Choose "File" in the software.
Hit on "Utilities".
Moving further to import your data, you must understand how to upload Excel file to QuickBooks Enterprise Suite. For this, you have to tap on the "Import" option.
Opt for "Excel Files".
"No" is to be chosen when the following screen appears:

"Add/Edit Multiple List Entries"
Post-choosing "Advanced Import", you have to initiate mapping.
Tap on "Browse". One "Excel" file has to be clicked on. See to it that the right sheet is picked.
"This Data File has Header Rows" is the next option that needs to be chosen.
Press "Add New" under "Choose a Mapping".
A window will appear for mapping purposes. In it, you need to set one name.
Mention "Import Type".
Tally the columns for the following:

"Import Data"
"QuickBooks"
Use the button for "Save".
Then hit the "Preview" feature.
Move further with this process by clicking on "Import". Now, the data from Excel to QuickBooks Enterprise Suite will be finally transferred.
Note: At the end of this, you may be reported by the accounting software that the duplicate record found issue has occurred. You will be presented with 3 fixes for this. Choose the most suitable one to complete this method.
4. What is the Procedure to Import Excel into QuickBooks 2021 Accountant?
You will find a feature to add transactions in a batch in this accounting program. It will also come in handy when you have to import your information from Excel. In order to do so, you will be categorizing the type of transactions. Hence, this method will not only import the information from Excel to QuickBooks 2021 Accountant but also divide it properly into categories.
Run a file of "QuickBooks 2021 Accountant".
Tap on "Accountant".
On entering this menu, you have to push the feature for "Batch Enter Transactions".
This will show you a screen with grids. You have to press "Transaction Type".
After filling it, decide what all has to be imported from Excel to the software. You can choose from the following:

Deposits
Checks
Credit card fees
Bills
Credit memos
Run that "Excel" sheet which has all the desired transactions to import.
Choose the appropriate columns and opt for "Copy".
Bring these columns into "QuickBooks Register".
Start "Batch Entry". In this register, press the 1st cell.
Right-tap on the cell. Then you have to choose "Paste". A larger part of the process to import Excel to QuickBooks 2021 Accountant will now be complete
The accounting software will inform you which entries are invalid or don't match. After this, press one of these:
Tap on "Split" only if needed. Following this, you can include relevant details.
Ensure that complete data has been moved.
Press "Save Transactions".
The final step will make certain that your data has not only been transferred but also correctly saved.
To Put it in Brief
Businesses can rely on QuickBooks due to its functioning which makes data movement and exchange easy. Via various programs, you can import the data into this software. Given that you want to import QuickBooks into Excel, the process is even easier due to several features available. With the information shared here, you should be able to correctly execute it.
FAQs – Ways to Import Excel into QuickBooks Desktop, Enterprise Suite, and Accountant Versions
Can you import transactions into QuickBooks from Excel?
Information such as transactions and payments can be recorded into QuickBooks by means of importing via Excel. You can record every transaction as a fresh entry in the accounting software. When this has been done, you can review the information added. This will help you ensure whether or not the QuickBooks excel import successfully took place.
How to import Excel file to QuickBooks Desktop?
You can import your Excel files into QuickBooks Desktop. However, QuickBooks Accountant Desktop is the version that will support this activity. You can open "COA" or "Chart of Accounts" in that. It will show the option to import. As you follow the directions shown by this option, the process will be completed.
Can you import transactions into QuickBooks Pro from Excel?
You may or may not find any direct option/feature to import transactions between Excel and QuickBooks Pro. Should you not find the desired option, then you can record these transactions manually using the information available in the spreadsheet program. In this way, you will be able to manually import transactions into QuickBooks Pro from Excel.
What is an Excel template to import into QuickBooks?
You can understand an Excel template to import into QuickBooks as a structure. It will carry every column or row that is relevant to a particular type of data. Then this template can be moved to the accounting software.
Can you import into QuickBooks from Excel in all versions?
A user of QuickBooks can easily exchange information between the Excel Program and the software. A feature is available for this purpose. Nevertheless, when you are using a particular version of this software, you may find that this feature is missing. Then you can manually enter the data into QuickBooks from Excel.
What is required to import Excel transactions into QuickBooks Desktop?
The requirements to import between QuickBooks Desktop and Excel will depend on the data that is to be transferred. If you want to import Excel transactions into QuickBooks Desktop, then you will need the correct values associated with this. Given that data such as invoices must be imported, their entire data will be relevant to this process.
How do I import Excel to QuickBooks Online?
In the "Settings" of this software, you will find an option that says "Products and Services". It will lead you to a browsing feature. You can try to attach an Excel file through that feature. In case that file is supported by QuickBooks Online, you will be able to import data from Excel.
Can I automatically import transactions into QuickBooks Online from Excel?
You can either add entries from Excel to QuickBooks Online or attach files on your own to import transactions. But when you wish to import the payments automatically, you may not find that feature. However, to be certain about it, consider connecting with the software team. It will be able to guide you appropriately.
Will my data be lost when I import Excel data into QuickBooks?
Assuming that no interference occurs while you import your data, it may not be lost. Sometimes, however, certain disruptions may come up. Then Excel or QuickBooks may be affected or may stop responding. You may lose the data then. You can try to keep a backup of the information to avoid the slightest scope of such issues.