Amazon QuickBooks integration is made easy with the Amazon Business Purchases app. With this app, you can connect your Amazon Business account to QuickBooks and import purchase details for simplified financial management.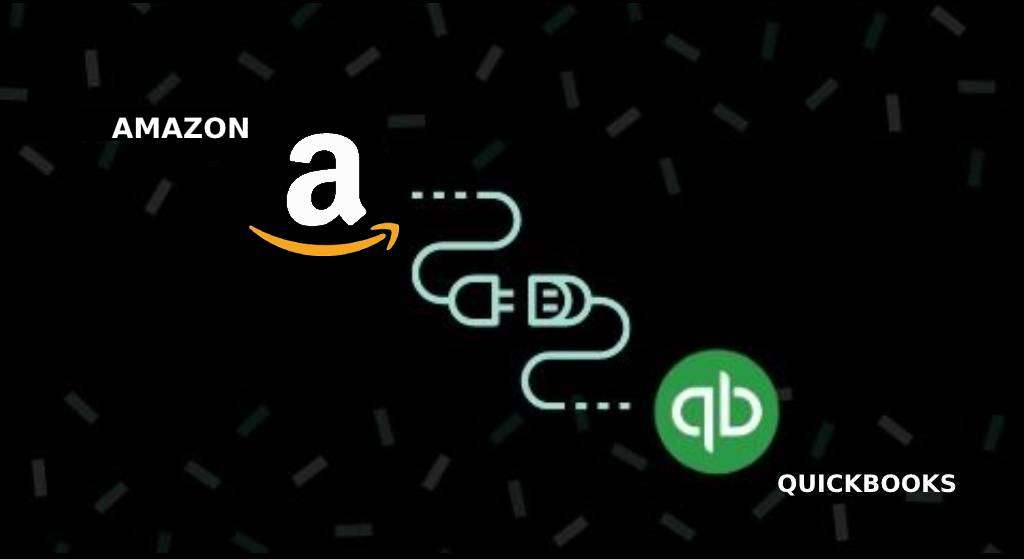 QuickBooks can then categorize and link these purchases to your bank or credit card transactions. Simply review and approve the imported data to keep your finances organized.
What Are the Steps for Amazon QuickBooks Online Integration?
Before you proceed with the steps for Amazon QuickBooks integration, you must note the following:
From March 13, 2023, you'll need to reconnect the Amazon Business app to continue receiving data in QuickBooks, due to service updates by Amazon Business. The app itself remains unchanged.
To connect Amazon to QuickBooks, do the following:
Log in to QuickBooks as an admin
Navigate to the Business Purchase app page of Amazon
Pick on where it says to get the app now
Sign in to Amazon Business account as primary admin
Pick the import beginning date
Tap on the finish
The Amazon Business Purchases app imports all your Amazon Business purchases into QuickBooks, with the latest transactions syncing automatically once a day.
What are the Steps for Amazon Seller Central QuickBooks Integration?
Discover how to integrate QuickBooks with Amazon Seller Central and streamline your financial management process with QuickBooks for Amazon sellers.
Important Note: The steps only apply to QuickBooks Commerce with Online QuickBooks Subscription. QuickBooks Commerce cannot be purchased as a standalone product.
Log in to QuickBooks Commerce.
Navigate to Browse Apps and click on Amazon.
Click on the Install app.
Choose your primary marketplace ID from the dropdown menu and click Continue.
Select Agree to grant QuickBooks Commerce permission to connect with Amazon. If you are not already signed in to your Amazon account, you will need to sign in.
Click Continue, followed by Next to proceed.
How to Connect QuickBooks Amazon FBA?
Learn the steps to Amazon FBA to QuickBooks integration. But before proceeding please refer to the important note in the above section. These steps only work with the commerce version of QuickBooks
Go to "Browse Applications" and find "Shipping".
Choose "Fulfillment by Amazon" and install the app.
Select the primary marketplace ID from the dropdown menu and click "Continue".
Agree or don't agree to connect your FBA account.
Import products from your FBA account.
Match SKUs if FBA products already exist in QuickBooks.
Click "Continue" to finish the process.
How to Connect Amazon QuickBooks Self-Employed Integration?
Learn how to simplify your business transaction categorization by performing Amazon QuickBooks self-employed. Follow these steps to link your Amazon account:
Click on the gear icon located at the top right corner of the screen.
Choose the option labeled as " QuickBooks Labs."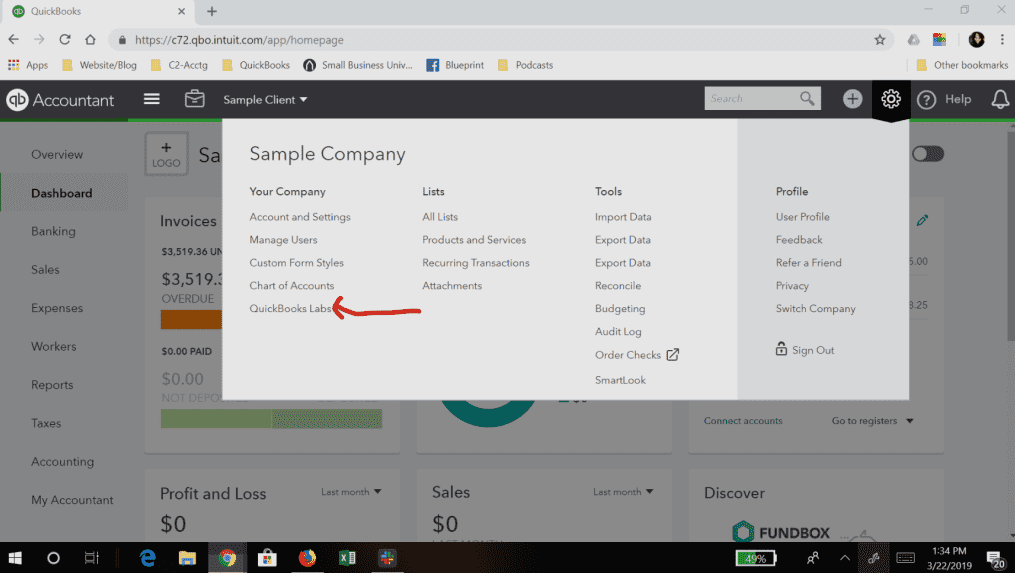 Click on the option labeled as "Turn It On."
Tap on the "QuickBooks Amazon Integration" option.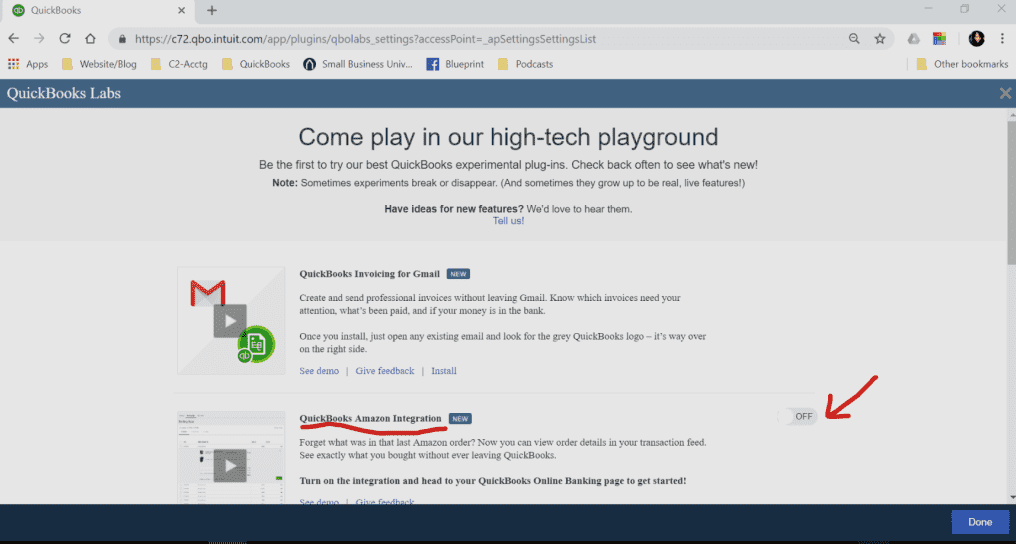 Enter your Amazon login credentials when prompted.
Allow the system to complete the connection process.
How to Avoid Double Income with QuickBooks Amazon Seller Integration?
To avoid double income entry in QuickBooks Amazon Seller Integration you should link your Amazon account to QuickBooks Online, you can automatically record these transactions on your books with detailed information on what was purchased and when
 Follow these simple steps to integrate your Amazon account with QuickBooks Online:
Access the Banking App Menu. 
Then click on the Banking button.
Choose the transactions that are listed for analysis or review.
Tap on the ignore or exclude button to exclude the selected transactions.
How to Set GL Codes for Amazon QuickBooks?
As a user of Amazon Business and QuickBooks, you may have noticed that you can only choose one code for the general ledger to categorize your entries at this time. Unfortunately, this limitation is set by developers of the Amazon Business and not by QuickBooks.
However, you match and check the GL codes manually in Amazon QuickBooks for the time being. Additionally, if you have several methods of payment, you can give specific expense accounts for each method.
Navigate to the transaction page of the Application.
tap on the settings tab of the App.
To provide feedback to Amazon Business developers, visit their website and share your concerns.
Why Should You Connect Amazon to QuickBooks?
By integrating Amazon with QuickBooks, small business owners, and startups can streamline their business processes and free up time to focus on growing their businesses. Automating these processes eliminates the need for manual effort and allows for more efficient use of time.
There are more such benefits of QuickBooks Amazon integration given below:
Integration eliminates the need for manual record-keeping.
Data can be compiled accurately and easily shared with business partners.
QuickBooks allows multiple users to connect simultaneously.
QuickBooks can accept foreign currencies from around the world.
QuickBooks Amazon Integration offers benefits such as shared files and reduced data entry. Use third-party apps to sync data and improve financial management. Integrate now for a more efficient business.
Frequently Asked Questions 
Does QuickBooks integrate with Amazon?
Yes, QuickBooks can integrate with Amazon.
How to integrate Amazon with QuickBooks Online?
You can use third-party apps such as A2X or Connex for QuickBooks to integrate Amazon with QuickBooks Online.
Can you integrate QuickBooks with Amazon?
Yes, you can integrate QuickBooks with Amazon using third-party apps.
Does Amazon integrate with QuickBooks?
Yes, Amazon can integrate with QuickBooks.
How do I integrate my Amazon account with QuickBooks Online?
Sign in to QuickBooks Online as the primary administrator. Navigate to the Amazon Business Purchase app page and select Get app now. Sign in to your Amazon Business account when prompted.
Can I use the Amazon business purchase APP with QuickBooks?
You can't use the Amazon Business Purchase app to link it to QuickBooks
Can I import Amazon order information into QuickBooks self-employed?
You can bring Amazon order information into a self-employed version of QuickBooks for smooth categorizing the business.
How to connect an Amazon Seller Central account to QuickBooks Commerce?
Sign in to Seller Central and select "Authorize new developer" under User Permissions > Third-party developer and apps > Manage Your Apps.
What are the benefits of Amazon QuickBooks?
QuickBooks Amazon Integration benefits: no manual record-keeping, easy data sharing, multi-user access, and support for foreign currencies.
What is the GL code for Amazon QuickBooks?
The GL code for Amazon transactions in QuickBooks depends on your accounting setup and preferences.