QuickBooks Desktop trial is a free version of the software that allows you access without buying a license for a limited time. You can try the application features to determine if it is suitable for your business needs. The trial version offers a secure chance to learn the benefits of QuickBooks Desktop, regardless of whether you're a small business owner, accountant, or student.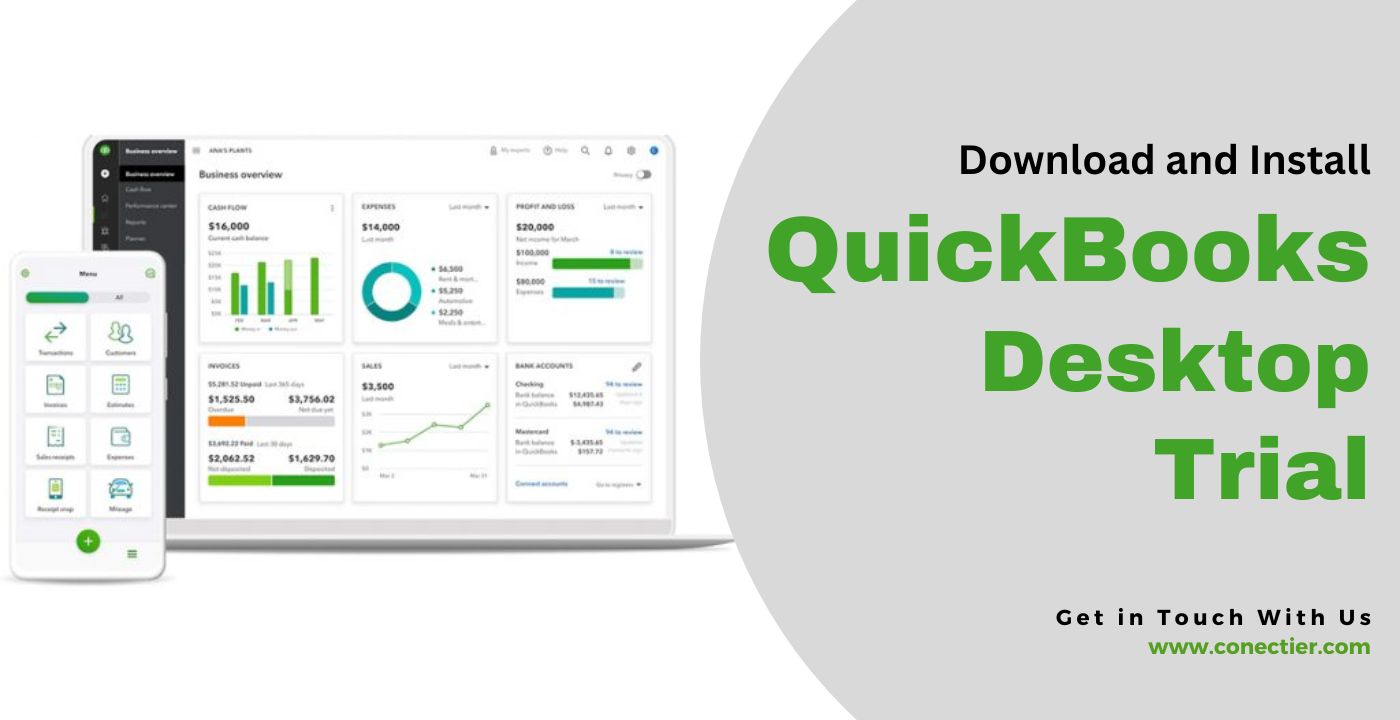 What is the QuickBooks Desktop Trial?
The QuickBooks Desktop free trial allows you to explore all the features of the software without having to pay upfront. The trial period is for 30 days, and it is a great way to test the program to check whether it meets your business needs.
During the use of the QuickBooks Desktop trial version, you can access:
Invoicing,
Expense tracking,
Financial reporting and more.
Additionally, you can manage company files, and transactions with this software for a comprehensive overview of its potential benefits.
Features and Limitations of the QuickBooks Desktop Trial
With the QuickBooks Desktop trial version, you can manage your finances effectively using a range of features. Some of the key features are:
Make invoices and monitor payments.
Categorize expenses, upload receipts, and manage vendor payments for expense management.
Reconcile bank transactions with automatic import.
Create reports for financial analysis.
Manage employee wages, taxes, and benefits through payroll.
Note: Access to all features comes with limitations in the trial version. These limitations have little effect on your trial experience.
For instance:
Reports may be unprintable
Advanced features may have limitations. 
What is the System Requirement for QuickBooks Desktop Trial?
Before downloading and installing the QuickBooks Desktop 2022 trial version, it is important to ensure that your computer meets the necessary system requirements. 
Processor speed: 2.4 GHz
Minimum RAM (workstation): 8 GB, recommended 16 GB
(Server RAM): Users 1-5: 8 GB, 12 GB for 10 users, 16 GB for 15 users, and for a minimum of 20 users: 20GB
Space on disk:
2.5GB of disk space
60MB for Microsoft .NET 4.8 Runtime.
Intuit Data Protect requirements for QuickBooks Connected Services:
4.0 GB Ram
Double the size of the largest file set to back up + 100MB or twice the size to restore from the work folder LocalApplicationData+"IntuitIntuit Data Protect".
SSD drive.
Operating systems:
North American Windows version
Multi-user access requires administrator rights on the server computer.
This program is natively installed.
CD installations require a 4X DVD-ROM drive.
Resolution of the screen:
1280 x 1024 resolution or higher.
Note: QuickBooks no longer supports Windows 8.1 and only runs on a 64-bit system
How to Download QuickBooks Desktop Free Trial?
The process to download the free trial of quickbooks Desktop is simple. Start your trial by following these steps.
Navigate to the Free Trial page on the official QuickBooks website.
To begin the download, click the "Free Trial" button.
Enter your name, email address, and phone number.
Pick the QuickBooks Desktop version that best matches your business (Pro, Premier, or Enterprise).
To begin the download, click on the "Download QuickBooks (version)" button.
How to Install QuickBooks Desktop Trial?
Once the download quickbooks Desktop free trial is completed, you can follow the steps listed below to install the same.
All running programs should be closed.
Install the version of the application you need.
Choose Yes after selecting Run
Tap the click button after being sent to the download manager pager.
Wait for a while when you have launched.
when the process is complete select next.
Read all the guides and agreements displayed.
Select Next.
Enter details of the product such as the authentication number
Select Next, and after that again Next.
Launch the application after installing it.
Tap on Next after reading all guidelines to allow the Desktop version to use the internet connection.
How to Sign Up for QuickBooks Desktop Student Trial?
You can subscribe for a QuickBooks Desktop trial for students if you are enrolled at a US educational facility.
Go to the Page for the Intuit Education Program.
From the menu, pick register.
Pick the searching for QuickBooks Desktop under choose or pick your program.
Complete the form for registering after selecting Students.
A welcoming page will appear after you select Verify and Continue.
Note: If the page does not appear, go to the section for verification. Otherwise, proceed to Activate the QuickBooks Desktop student trial.
Steps to Activate QuickBooks Desktop Student Trial?
QuickBooks will prompt you to activate the software when you first open a company file. Complete the task within 30 days of installation.
Select Activate
Create or use an existing Intuit login.
Note: Ensure the info entered is yours with a secured password.
Fill in the required information for your customer account.
Then click Next.
You'll see a confirmation window.
Save or print the page for your records.
How to Access the Expiration Date Feature in the QuickBooks Enterprise 2023 trial version?
QuickBooks Desktop 2023 Enterprise free trial version comes with a new feature of accessing expiration date. Here are the steps to access and configure this feature:
Access Advanced Inventory Settings.
Confirm active inventory and purchase orders before proceeding.
Click on Advanced Inventory Settings after verification.
Go to Serial/Lot No. in settings. Expiration category.
Find and select "Activate serial or lot number" in this section.
Next, try the "Activate expiration date" option.
Enable and set the feature's settings with flexibility.
How to Check the Validity of QuickBooks Desktop Trial?
To determine your QuickBooks Desktop free trial expiration date and proceed with the subscription process, please follow these steps:
Choose the icon that looks like a gear.
Pick the option "Account and Settings."
Head to the "Billing and Subscription" option.
Information regarding your trial period will be found in the QuickBooks sections.
To subscribe to QuickBooks paid version. Do the following steps:
Choose the "Subscribe" tab.
Enter your credit card information.
Follow the guidelines to complete your subscription.
The QuickBooks Desktop trial is an excellent opportunity to test the software and determine if it meets your business needs. By following the steps outlined in this article, you can easily download, install, and activate the trial version of the accounting program.  
Frequently Asked Questions
Can the trial version of QuickBooks Desktop be extended?
No, the trial period cannot be extended.
Can data from previous accounting software be imported into the QuickBooks Desktop demo?
Yes, QuickBooks Desktop Trial allows data import from other accounting software.
Is technical support available during the QuickBooks Desktop Pro trial?
Yes, QuickBooks provides technical support to trial users.
Can I upgrade from QuickBooks Desktop free download to the full version?
Yes, you can easily upgrade to the full version.
Does free QuickBooks Desktop trial work with Mac computers?
Yes, QuickBooks Desktop Trial is available for both Windows and Mac.
Can multiple users be added to QuickBooks Desktop 2020 free trial?
Yes, you can add multiple users to the QuickBooks Desktop 2020 free trial based on the version you choose.
Is internet access required to use the QuickBooks Desktop Accountant trial?
Internet access is required for downloading and initial setup, but not for day-to-day use.
Can reports in the QuickBooks Desktop pro-2021 free trial be customized?
Yes, QuickBooks Desktop Trial allows report customization to suit your business needs.
What happens to my data after the QuickBooks Desktop 30-day trial ends?
Your data will be saved and accessible if you decide to purchase the full version.
Can QuickBooks Desktop Trial be used for personal finances?
QuickBooks Desktop Trial is designed for small businesses and may not be suitable for personal finance management.