With its website development solutions, Wix has been useful for many companies planning to make a name for themselves in their respective industries. With the making of their sites, they can complete their accounting work with QuickBooks. To make the work complete in an efficient way, Wix QuickBooks integration can be recommended. It can give companies a smart way to limit manual work and introduce automation for seamless processes such as the creation of invoices, tracking profitability, and more.
The integration or sync between your accounts can be initiated through several applications or plugins. Some of these may be supported by Wix or Intuit. Both free and paid ways can be accessed to synchronize.
What is the Wix and QuickBooks Integration Method via App/Plugin?
In QuickBooks, you may find certain apps best for connecting with Wix. Other than apps, plugins may also be available for the task. To find them, you can check the app store of Intuit QuickBooks. Fill in the name of the website builder in the search area. Go through the apps and plugins in the results. After making your selection, access the chosen option.
On your browser, enter "QuickBooks App Store".
Tap on the official link.
Look for the space that says "Search by App Name, Keyword, Job, or Category".

Write "Wix" in this space.
Press the "Enter" key on the keyboard.
You will find certain apps and plugins as search results. Go through their information to find the most suitable Wix QuickBooks integration plugin/application.
Tip: You may find the initially displayed apps less suitable for the tasks. There may be more options available. If so, the "Load More" button should be given consideration. Tap on it to view more integration options.
Finalize the selection and hit "Get App Now".
Pay the charges when required.
Once the download is over, you can open the app or implement the plugin. The sync should begin soon. Later, you can access your data with ease.
How does Wix Integrate with QuickBooks Online?
Wix Connector is an application by Intuit specifically for tasks such as software integration. It supports synchronization with versions such as QuickBooks Online. Additionally recognized as QuickBooks Connector, using it, you can auto-write information relating to invoices and your customers.
This app can be downloaded and used in 2 ways. Either from the store of the accounting software or the website builder's platform, this can be done.
Option 1: Using via QBO
You can integrate Wix with QuickBooks Online by looking for the application through Search. When you open the software, you should see this option. Write Wix Connector in it and access the app. Every piece of information asked by the connector can be entered to commence the syncing process.
Locate the option of "Search" in "QuickBooks Online".
Enter "Wix Connector" in this option.
Start searching and wait for the results to be displayed.
Choose the application and tap on "Get App Now".
Wait for its download to be over.
To use the connector, input the information needed and begin Wix integration with QuickBooks Online.
Option 2: Accessing via Wix
For combining your QBO and website-making account, you can enter the app market featured by Wix. You will find the software integration app in it. Please enter the particulars of both accounts. Let the syncing process start and decide what information you would like to integrate.
How does Wix integrate with QuickBooks Connector has been described as follows:
Go to the Wix App Market
Search"QuickBooks Connector by Intuit" on the page.
Click on the option of "Add to Site".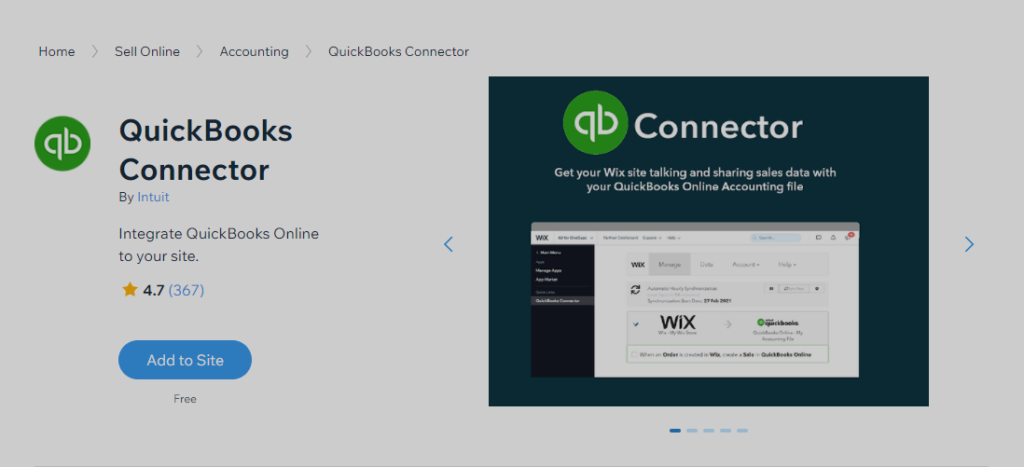 Wait for the "Sign up" or "Log in" page of "Wix" to appear.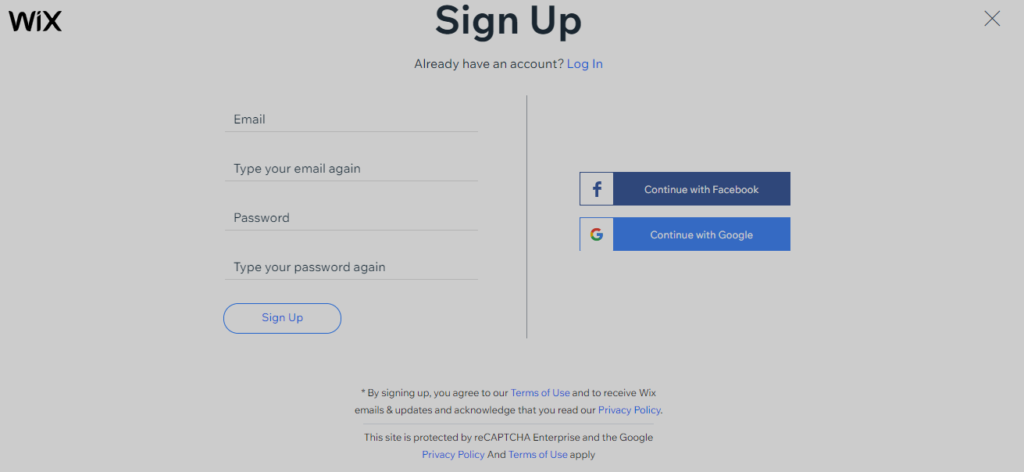 As per your requirement, sign in or create your Wix account.
Then you can follow the instructions appearing on the display to get the app and start its usage.
Please Note: This app is available for free. Also, there is no limit on the number of users who can access the integrated accounts. After the process, you can auto-integrate your data along with the business sales.
Features of QuickBooks Wix Integration
Companies prefer linking their Wix and QuickBooks accounts to keep their data organized. Any particular information, whether or not required on an urgent basis, can be easily found when organized. For this, integration between them supplies the companies with 4 main features. These include:
New items can be added to the software. They can be customized as required by the users.
Entering your data can be made automatic.
You will not have to manually exchange information between Wix and this software.
The features of the website-creating platform can be synced with QuickBooks. These can include "Wix Audio", "Wix Stores", "Wix Video", "Wix Events", "Wix Invoices", "Wix Art Store", "Pricing Plans", and "Wix Bookings".
Additional benefits of Wix QuickBooks integration can also be accessed. To ascertain them, you should see the versions such as QuickBooks Desktop and Online that you are syncing. Along with this, the app you are using to sync can also play a role. You can check the plans of the app and see the features offered.
Using Wix in sync with QuickBooks can let you experience a better way of organizing the information and processes of your company. As you plan to grow, Wix QuickBooks integration can give you a boost of efficiency and productivity. For maximum utilization of the process, selecting the most feature-rich integration app, as per your business, will be suggested.