When you want to easily control the inventory and accounting processes of your organization, Zoho QuickBooks Integration can be helpful. You may be familiar with both platforms and their benefits for organizations. It should be known that as you sync them into one, the number of benefits can increase. For syncing Zoho CRM with Intuit QuickBooks, you only need accounts on these platforms. Via the settings of Zoho People, Inventory, or Expense, you can integrate both QuickBooks Online and Desktop.
To find the details of these integration methods, you can see this page. In Addition to the methods, we have introduced the prerequisites, features, benefits, and subscription charges for Zoho and QB's synchronization.
Here is an outline that hints at the topics covered in the post:
Explaining QuickBooks Integration with Zoho CRM
The integration between Zoho and QuickBooks can be understood as their synchronization to result in a single platform. For organizations and startups, QuickBooks and Zoho CRM integration can combine the management of inventory and accounting operations. Thus, organizing work becomes easier.
Conditions to Fulfill before Doing Zoho QuickBooks Integration
For Zoho to QuickBooks integration, 4 conditions have to be met. They have been added below:
Create an account in QuickBooks.
Set the US as the country for your QB account.
Decide a currency for Zoho Inventory and QuickBooks.
Choose only one account for integrating QuickBooks with Zoho.
Zoho CRM QuickBooks Online Integration Method
Integration between Zoho and QuickBooks Online can be done directly from the platform of the CRM. Via your account on Zoho People, you can connect your QBO account. Likewise, you can either sign in or sign up on Zoho Inventory. Then you can choose which organization of QB has to be synced with the inventory.
To check the details of Zoho QuickBooks Online integration methods, you are requested to read further.
Method 1: Using Zoho People to Integrate
Zoho People is among the best options for integrating this CRM with the QBO software. On its Home page, you can use Settings. The Integration option has to be selected. In Others, you can opt for QuickBooks. Near the option, you will find Configure. After choosing it, you can press the Connect to QuickBooks tab to move ahead with the integration procedure.
Use these instructions to understand how does Zoho CRM integrate with QuickBooks Online:
Launch the "Home" page of "Zoho People".
From here, run "Settings".
Now, view "Integration". You need to pick this option.
Click on "Others".
Select the "QuickBooks" option.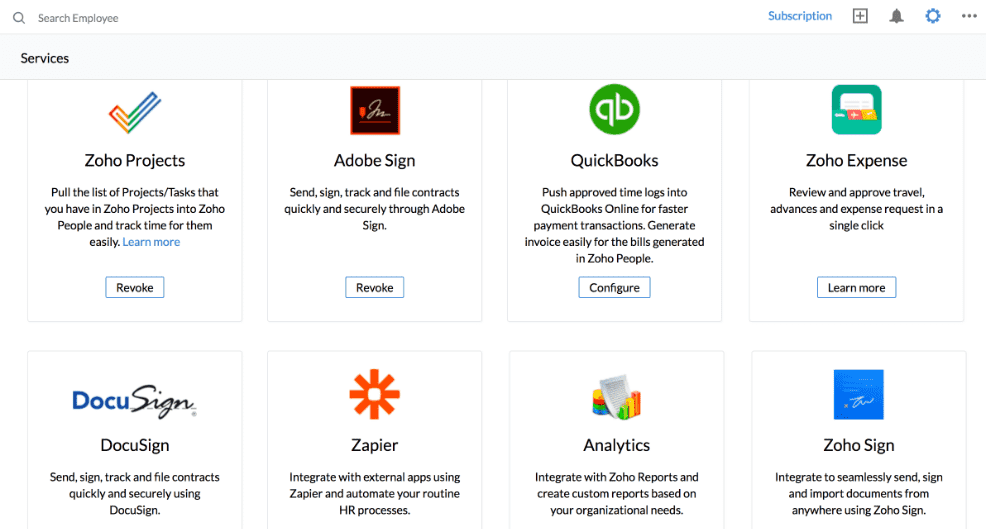 Tap on "Configure".
Moving ahead with the authorization process, select "Connect to QuickBooks".
Wait for the "Sign in" page of "QBO" to be launched.
On this page, fill in "Email or User ID".
Correctly mention your password.
Choose "Remember Me" as per your preference.
Tap on "Sign in".
Now, wait for the configuration process to be over. Afterward, you will find that your Zoho People account has been integrated with that of QuickBooks Online. You can explore the features of their integration and start using them.
Method 2: Integration with the Help of Zoho Inventory Account
Certain users have chosen Zoho Inventory for syncing their accounts with QuickBooks Online. When you choose it too, you can start Zoho QuickBooks Online integration by signing in to your account. After you log in to Zoho Inventory, you can tap on Integrations. Select Accounting and then use QuickBooks Online. Accompanying this, you can push Connect to QuickBooks.
Below, you can view more steps for integrating Zoho Inventory with QBO:
Open "Zoho Inventory" and then sign in to it.
From the sidebar, choose "Integrations".
Find the option of "Accounting".
Via "Accounting", view "QuickBooks Online".
Choose "Connect to QuickBooks" located near the accounting software's name.
On the "Sign-in" page of the software, provide the following:

"Username" of "QBO"
"Password" of your account
Pick one organization for syncing the inventory of Zoho.
Press "Connect".
Zoho and QuickBooks Online integration will be over after you complete the configuration. On pressing Connect, you will be auto-directed to the configuration page. The settings for both export and import will have to be configured.
Zoho CRM and QuickBooks Desktop Integration Method
You can use your account on Zoho Expense to integrate QuickBooks Desktop. With the Admin option, you can find Integrations. This feature will help you choose QuickBooks Desktop. Then you can download the Connector to proceed with Zoho QuickBooks Desktop integration. The location of your company file has to be specified in the Connector for completing the process.
Note: This method for Zoho QuickBooks Desktop integration will work when you are using a Windows computer.
Go to "Zoho Expense".
Using the "Admin" option, move to "Integrations".
Click on the option that says "QuickBooks Desktop".
You will have to pick "Download Connector (Windows OS Only)" for going further.
Click on the button labeled "Download" in the new popup.
Wait for the connector to be downloaded.
After this, the connector needs to be launched.
The connector will require the location of your QuickBooks Desktop company file. Mention it.

Or, you may run the company synced with Zoho. Then press these keys:
"Ctrl" key + "1" key
Below "File Information", the location will be given. Select it.
Visit the connector and mention the location.
Features of QuickBooks Zoho CRM Integration
These features are accessible with the syncing or integration of QuickBooks and Zoho:
You can transfer data between QB and the Zoho CRM or inventory. This data can be inclusive of:

Quotes
Invoices
Vendors
Products
Contacts
Sales orders
The integration enables you to import and export your information between the said platforms.
The details of your vendors and contacts can be synced.
Both custom and standard fields can be mapped.
Zoho and QuickBooks integration provides you with a feature to prevent the overwriting of data.
You can also prioritize your company's information.
The information that you transfer gets recorded in history. You can easily view it.
3 Benefits of Zoho CRM and QuickBooks Integration
Zoho CRM or Zoho books QuickBooks integration can assure you these 3 benefits:
Using more than one channel, you can manage your orders.
A connection can be made with several shipping carriers. Using this connection, your products may not take long to get delivered.
You can sync the following information/data:

Payables
Contacts
Stock
Accounts
Receivables
Subscription Charges for Integrating QuickBooks with Zoho
Zoho CRM or Zoho Books and QuickBooks integration can be done through different platforms. The subscription charges can be required for using some of the platforms. You may use Zoho Inventory to integrate your QuickBooks account. You can choose one of these plans with charges defined as follows:
Free – $0
Basic – $39
Standard – $79
Professional – $199
While using Zoho People to sync your QuickBooks or QuickBooks Online account, the charges may or may not be involved. While performing the integration process, if any subscription charges are involved, then you will be notified about them.
In Summary
We covered useful information for understanding what QuickBooks Zoho integration is. Here, the methods for integration were also included. With the addition of features, benefits, etc., on this page, we believe that you will be able to decide whether to opt for this integration. Stay connected with us to know more such information.
For HR software solutions, BambooHR can be ideal. If you have a QuickBooks account, then you can combine this software with it to draw the most benefits. Learn more about BambooHR QuickBooks integration with this post.