PayPal app for QuickBooks offers users to manage all their payments which in turn saves a lot of time. You can also make payments through different credit cards online in sync with this app. The QuickBooks PayPal application can help to boost your cash flow too. Payments received through PayPal can be directly recorded in your QB and QuickBooks Online accounts via this app.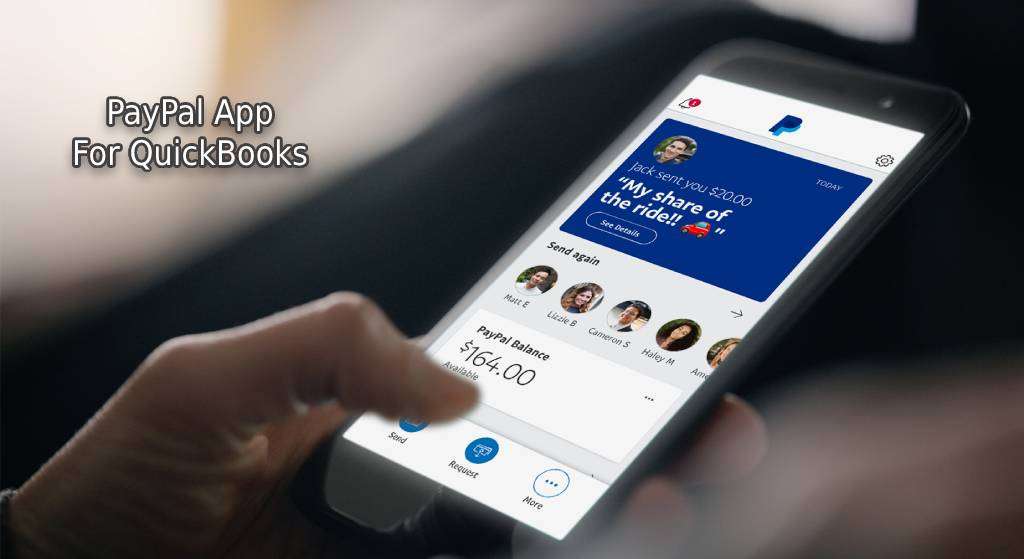 As you can see, there are several features and uses of the QB PayPal app. In this blog, you will get to know about them in detail. After this, we will also tell you the way to use this app for your accounts.
Outline
You will come across the following in our post:
1. What is the PayPal QuickBooks App?
2. Features of QuickBooks PayPal App
3. How Do I Use the PayPal QuickBooks App?
What is the PayPal QuickBooks App?
An application has been made for using PayPal with QuickBooks. It helps to easily exchange information between the platforms.. This is the PayPal QuickBooks app. It can help users to effortlessly accept payments with PayPal and record them in QB. Payments can be made online through PayPal, Debit Cards, or Credit Cards such as Visa, American Express, and Mastercard. You can pay your invoices fast and quickly as the payments are simplified with this application.
Features of QuickBooks PayPal App
The features of the QuickBooks PayPal App are as follows:
Your time can be saved a lot by using the QB PayPal application. Your payments and transactions are managed by the app.
This application has been made to fulfil goals like reducing manual work of the users. Therefore, you do not need to do manual entries as the work gets automatically processed.
Payments Made Fast to Boost Cash Flow
One of the main features of the PayPal app for QuickBooks is that it boosts your cash flow. To do so, the availability to receive quick payments has been found.
The payment transaction fee of the application for PayPal and QB is low. For companies that need budget-friendly solutions for processing their transactions, this app can be considered.
The payments made through the QuickBooks and PayPal app are automatic. You do not need to remember the payment and manually process it. The app can initiate the process for you.
Credit Card Benefits Made Available
You can also make payments through credit cards with access to this app. A range of credit cards including American Express, Visa, and Mastercard on PayPa can be used for this. It benefits the users by adding the availability of wider payment options.
Payments Are Secured and Protected
You can fully trust the payments made through the PayPal QuickBooks app to process via a safe medium. The application monitors the transactions and ensures complete security and protection.
Note: Depending on the QB version you use with the app, you can get added benefits. For example, you may be able to reconcile PayPal in QuickBooks.
How Do I Use the PayPal QuickBooks App?
For using the PayPal QuickBooks app, you need to have accounts on both the platforms. Then you must have your PayPal and QB or QuickBooks Online account signed in. Download the application and completely install it. Opt for Accept Card Payments with PayPal to proceed. Then you can choose the Connect option to link your QB and PayPal accounts. After this, the features and uses of the application will be available.
You need to follow these steps to use the PayPal and QuickBooks application:
Sign in on the following platforms:
Note: You may be using a specific version of QuickBooks like QBO. In that case, you will have to sign into that account.
After signing in you need to add "Accept Card Payments with PayPal".
Then you have to press "Connect" for linking the "PayPal" business account to the "QuickBooks" account.
Permission needs to be granted and confirmed through an email confirmation.
Then create an invoice and send it.
Keep in mind to choose "Accept Card Payments with PayPal."
After this, you can create and send invoices as well as accept payments through the QuickBooks PayPal app.
Tip: Using QuickBooks with PayPal can be understood better. For this, you can read our post on QuickBooks and PayPal integration.
Conclusion
PayPal and QuickBooks give you excellent ways to manage your payments-related work. With the PayPal app for QuickBooks, managing the work has been more beneficial. Here, we learned about this app. The synchronization of PayPal and QuickBooks can guarantee you multiple features which can save your time, as explained above. We outlined the steps for using the PayPal QB/QBO app as well. Once you start using the application, do share your feedback with us.
For recording your PayPal transactions in QuickBooks, we have gathered the steps in this post. Also, to know how to import PayPal transactions in QuickBooks and QBO, you can see our other blog.